"Every child is an artist. The problem is how to remain an artist once he grows up" – Picasso
My education over the years led me on a path of science, research, discovery and development– in other words nothing to do with art for several years. Life has a way of waiting patiently until you are ready for your purpose. I believe that my purpose was to become a watercolor artist. It was only two years ago that the long lost connection with the artist that was within me got reconnected and I transformed from being a scientist for almost two decades into a full-time artist. And I am loving being one!
My love for watercolors and the guilt!
The alchemy of water, pigment and paper merging together is quite satisfying and unique to watercolors. I carried on using this medium despite the guilt of polluting the Earth with toxic chemicals, remaining ignorant of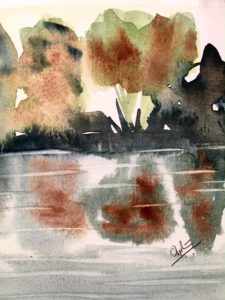 any other option. A great many watercolor paints and pigments that are out in the market either are NOT healthy for you or others are completely neutral.
Thanks to my years of training as a scientist that I cannot overlook not knowing the chemical composition of any pigment that I work with.
When I learned that it was possible to make my own paints from Earth, my passion was ignited and the whole process then became strongly aligned with my intrinsic values.
Step into the little corner of our guest room/studio where stands the classic Austrian REX marmalade jars containing a very small collection of my consciously selected beautiful Earth pigments; yellow and Red ochres from Italy, Cool Green Earth clay from Cypress, Orange ochre from France and a beautiful organic Indigo blue pigment from India. There is a natural attraction between the entire spectrum of earth colours, and this impression of pigments resonating with each other is evident in all of my work, which is painted using mostly the earth pigments, and I call them my 'Dirty Paintings'
I remain in awe of the intensity and strength of earth pigments – there lies a whole palette of colours beneath your feet. While  painting, I prefer to apply the pigments in layers until the earth I have painted glows with the same intensity as it did in its native state.
Why do I paint with Earth pigments?!
For a variety of reasons, I have made a point of only using  natural Earth in my daily art practice . In fact, the only watercolors that I ever paint with are my own handmade watercolors (unless stated otherwise). The most obvious benefit of making and working with paints from natural resources is that we're no longer poisoning the Earth or ourselves with unnecessary chemicals and toxins.
Even better, natural earth pigments
are actually superior to synthetic paints: they are more permanent (think cave paintings), and are not affected by sunlight, humidity, temperature or impurities. There is no need for added fillers or stabilisers to increase shelf life, and the colors themselves are more intense because the light bounces off the irregular surfaces of each particle. I don't know of many artists who love painting with Earth pigments at least not on the social media platform. I had conducted a poll some time ago to know from artists if they knew what was inside their paint. I was not surprised that 85% of them voted NO. Although, statistically this is not significant when the sample size was only approx. 120. But it did give me an idea that many  people really didn't know what's inside their paint?
Are watercolors (commercial/handmade) toxic?
The toxicity problem in an artists world is kind of a blurry area. There's no simple answer sorry. Watercolor paints usually have a low toxic index, including the ones stating "natural ingredients" such as Earths like Burnt Sienna, Raw Sienna, Burnt umber, Raw Umber, are quite toxic in nature !
The toxic effect of  heavy metals in paints is very well known to us and is stated clearly on the paint tubes or the MSDS provided by the manufacturer, but I have not come across any paint that mentions anything about the presence of toxic trace minerals. For. eg paints like Malachite, Azurite,  Emerald green, Viridian etc.
This also applies to the wide range of  handmade watercolors that have  flooded the market in recent times where complete information about the paints by some suppliers is not provided except for the marketing name under which they are sold.
I know of many artists who ignore the safety aspect of the art material they work with. In fact, many artists may feel that they are exposed to toxic painting pigments in such small quantities that no danger to their health is likely. However, it is important to understand that repeated small doses of hazardous materials might prove to have a cumulative effect on an artist's  health that may become evident at a later date. Especially, if you happen to be a passionate watercolor paint maker too. Pigments in pulverized state pose higher risk as opposed to  when bound with a binder. The body may be able to rid itself of the poison but it may take a long time to do so. If toxic material is absorbed at a faster rate than it can be excreted, the accumulation may cause serious illness. Reactions to a toxic material may vary according to the artist's age, size, or physical condition.
By saying so, it certainly doesn't imply that you should stop painting or making colors or be scared to reach out to your box of watercolor paints /pigments. Painting is a beautiful activity that allows an individual to capture their feelings. In fact , most daily  activities, from washing your hands,  to walking in the streets, involve dealing with low doses of toxic pollutants that lurk in our environment, and sometimes ingesting them!  I just don't like to ignore and expose myself  to accumulate low risks.
Therefore, its important to inform yourself  about what you are working with. Once  you have learned about the risks, and took the proper habits while creating your piece of art… paint to your heart's content!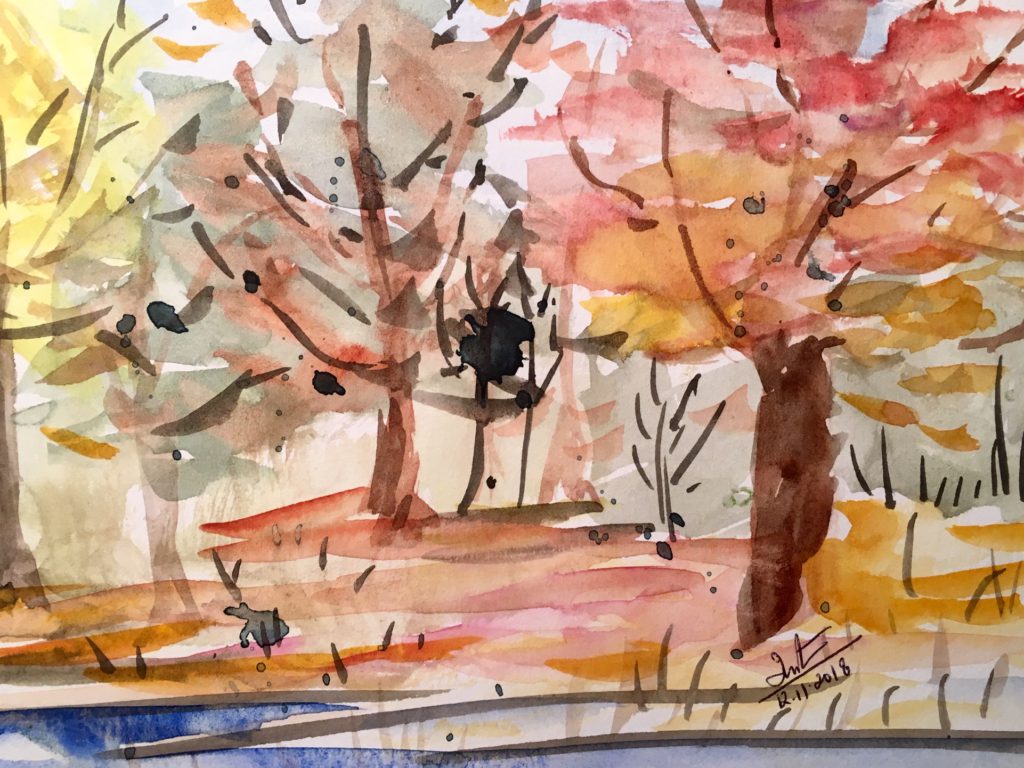 If you want to learn more …
… enroll in my online course exploring the traditional process of making watercolour paints from pure pigments.
Watercolour Paintmaking Workshop
DISCLAIMER: This article concerns itself with the common-sense safety aspects of art materials and art safety in general. The intent of this article is merely to raise individual awareness of some of the issues involved and to encourage the reader to take steps in learning more about the factors involved with the hazards associated with art materials. The author may change the contents of this document at any time, either in whole or in part.