The next time you're cooking eggs, don't throw away the egg shells in the bin straight away. It will surprise you that you can use them for making safe and eco-friendly creamy white watercolor paint and use it for transforming your existing color palette. It also makes for a great rainy day project to get the kids involved! 
White is not a color that is used by traditional watercolor artists. To achieve white in a watercolor painting you plan ahead, use masking fluid, wax resist or simply remember not to paint over the relevant white area of the paper. But such defined rules shouldn't stop one from exploring and trying new things. I am not a traditional watercolor artist but I am constantly exploring ways to creating sustainable art, learning something new in the process, and applying that to my daily art practice. No matter how unconventional that might be!
Eggshell white watercolor paint 
Materials required: 
Washed and dried eggshells
Pestle and mortar
Glass or marble slab
Muller (Glass or stone)
Palette knife
Gum arabic
Distilled water
Clove oil
Honey

 
SAFETY
Wear eye protection and respiratory protection when working with powdered pigment despite eggshells being completely safe to work with. Do not use containers that are used in the paint-making process for drinking, eating, or cooking food. Work in a well-ventilated area.
Directions
1.  Wash and dry eggshells and remove any eggshell membrane; a thin white membrane that lines the eggshells.  You must also consider the source of your eggs.  I have used shells from free-range organic eggs obtained from a local farmer.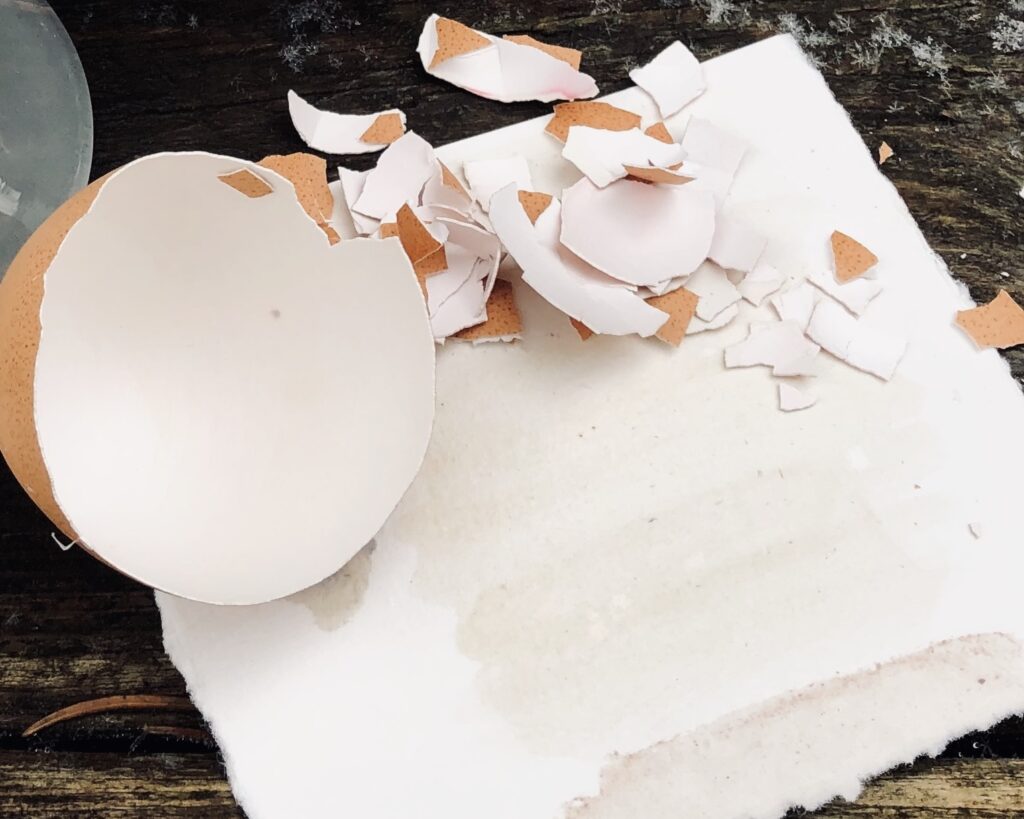 2. You could also boil the shells for about 10 minutes or so to kill any pathogens. This step is important if you buy your eggs from a store where you don't know where they are coming from and the cleanliness of the processing facility.
I had skipped this step because we get our eggs from a known local farmer. 
3. Break the eggshells into smaller pieces with hands or by any other means.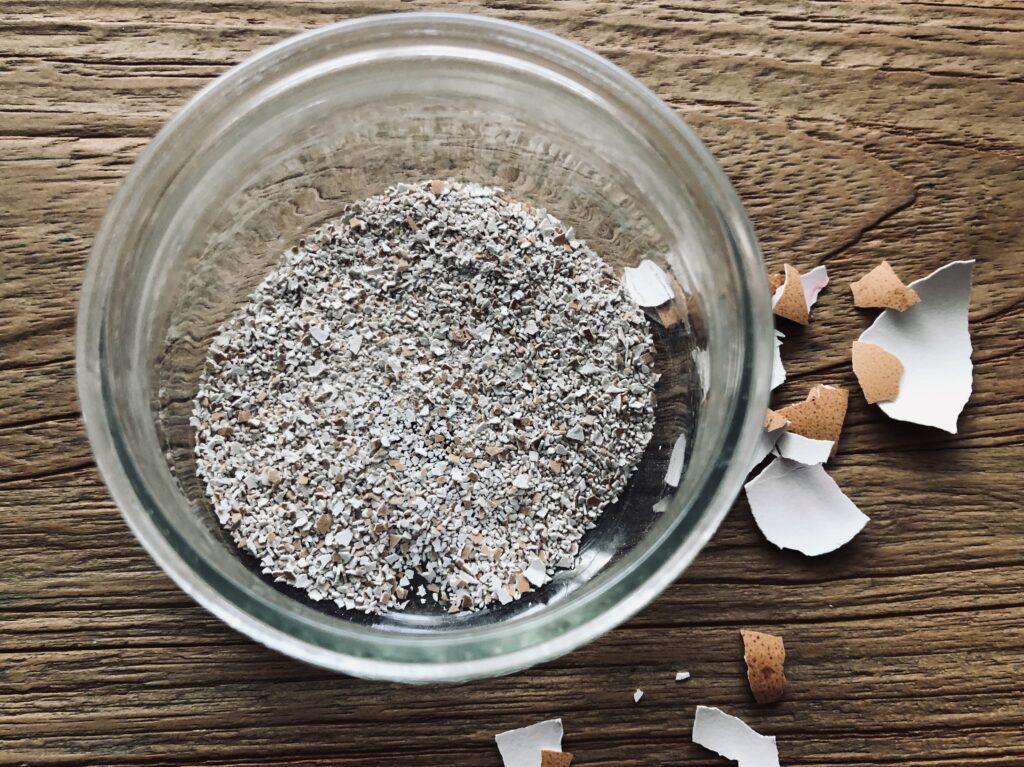 4. Grind the eggshells into a fine powder.  I have used a pestle and mortar to grind eggshells.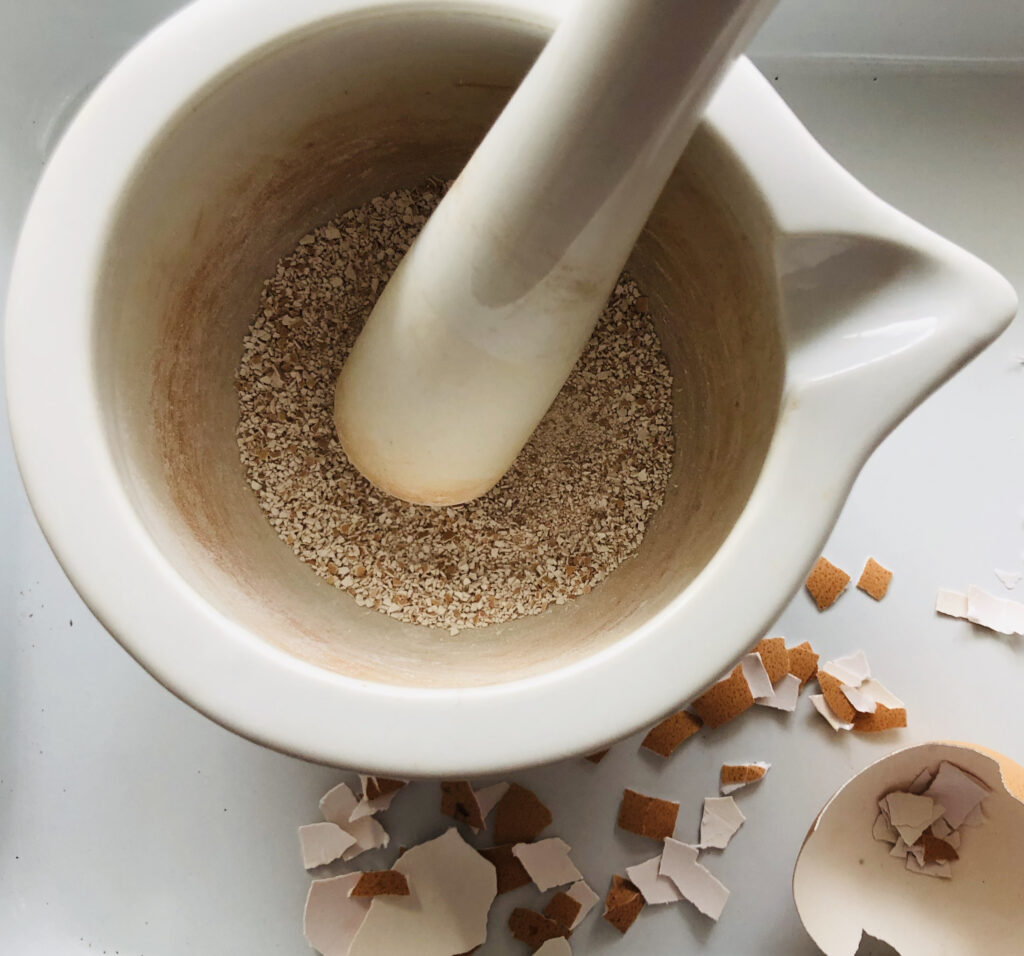 5. Grind till you have a very fine powder of Calcium carbonate.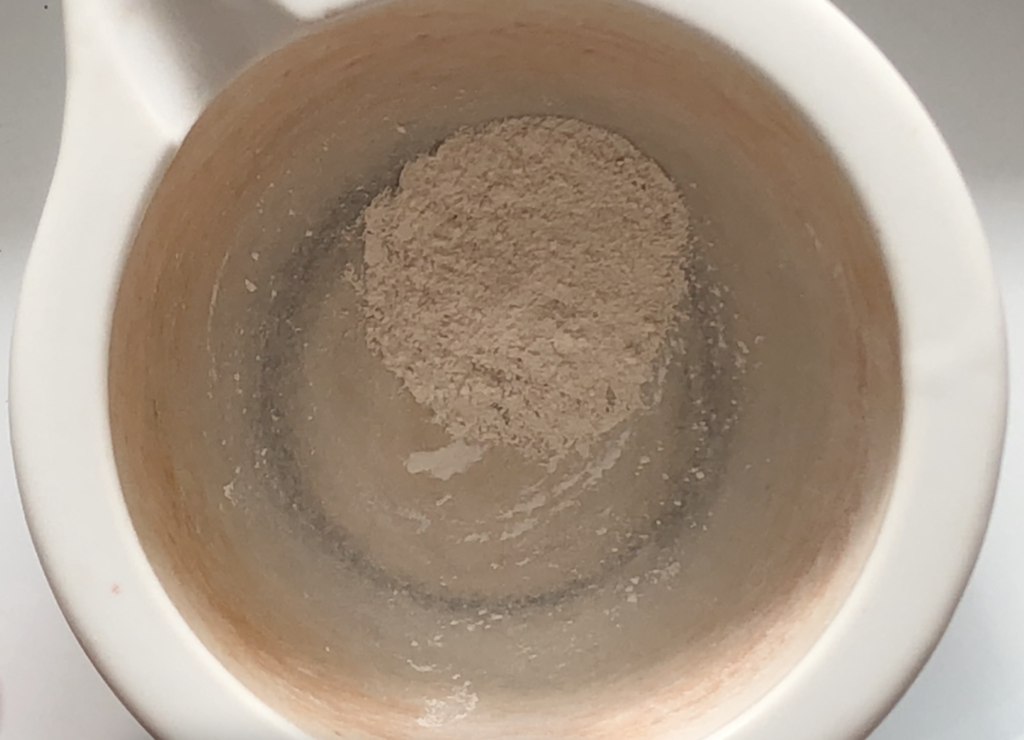 Paint making process:
Place a small quantity of pigment on the grinding slab, create a small well and add a few drops of binder solution (recipe). Using a palette knife mix the dry pigment with binder solution to a paste before beginning with the mulling process. It is important to achieve the correct balance of pigment to binder ratio: a general rule is slightly more gum than pigment.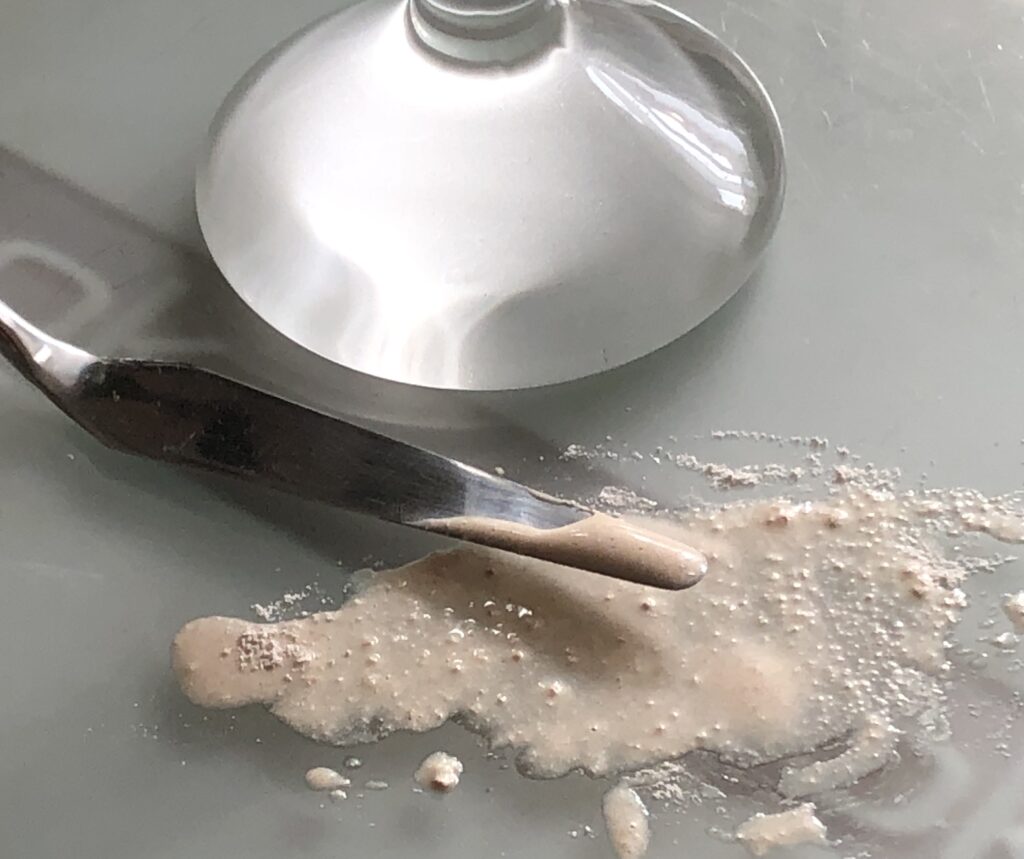 Begin mulling in a circular motion. Mulling is a crucial process of evenly suspending pigment particles in the binder. This is an important but labor-intensive process.
Once you've started spreading your pigment paste using the muller and it feels too sticky, add a few drops of the binder with a pipette or dropper. Keep mulling till the paste begins to feel smooth and is ready to be poured into pans to dry.
The finished handmade eggshell white watercolor paint.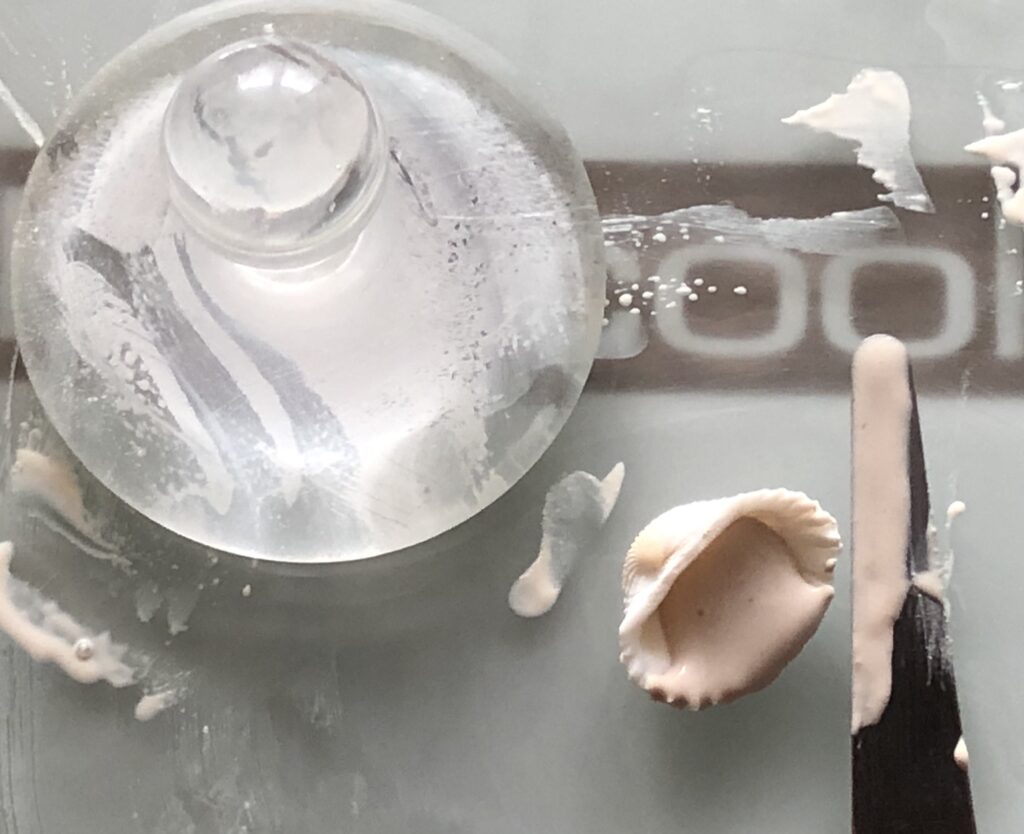 How to make handmade watercolors.
Using Eggshell white watercolor paint 
1) As a Primer
Priming an area of the paper with eggshell white paint has an interesting effect on the colors painted over it. You can either prime an area with white and let it dry, or go straight into it with wet-on-wet techniques.  You can manipulate the result by having a thorough knowledge of the characteristics of the pigments in your palette.
2. For opening the door to  new possibilities of color-mixing  and adding another dimension to the appearance of your watercolor art
When you mix eggshell white paint with other colors, it creates a pastel version of that color i.e the colors become opaque. However, the opacity is nowhere close to the gouache.  Colors mixed with eggshell white paint can be wonderfully useful in depicting landscapes, cloud-scapes, desserts, flowers, and much more. A thing to remember is that some pigments are naturally more opaque than others, so white will affect the opacity of colors in varying degrees.  Think of using egg shell white paint as having a transformative effect on your colors and not as a medium to lighten a color!
Below are some of my experiments exploring the characteristics of the eggshell white paint. It is really challenging to capture the real beauty of the colors mixed with eggshell white paint.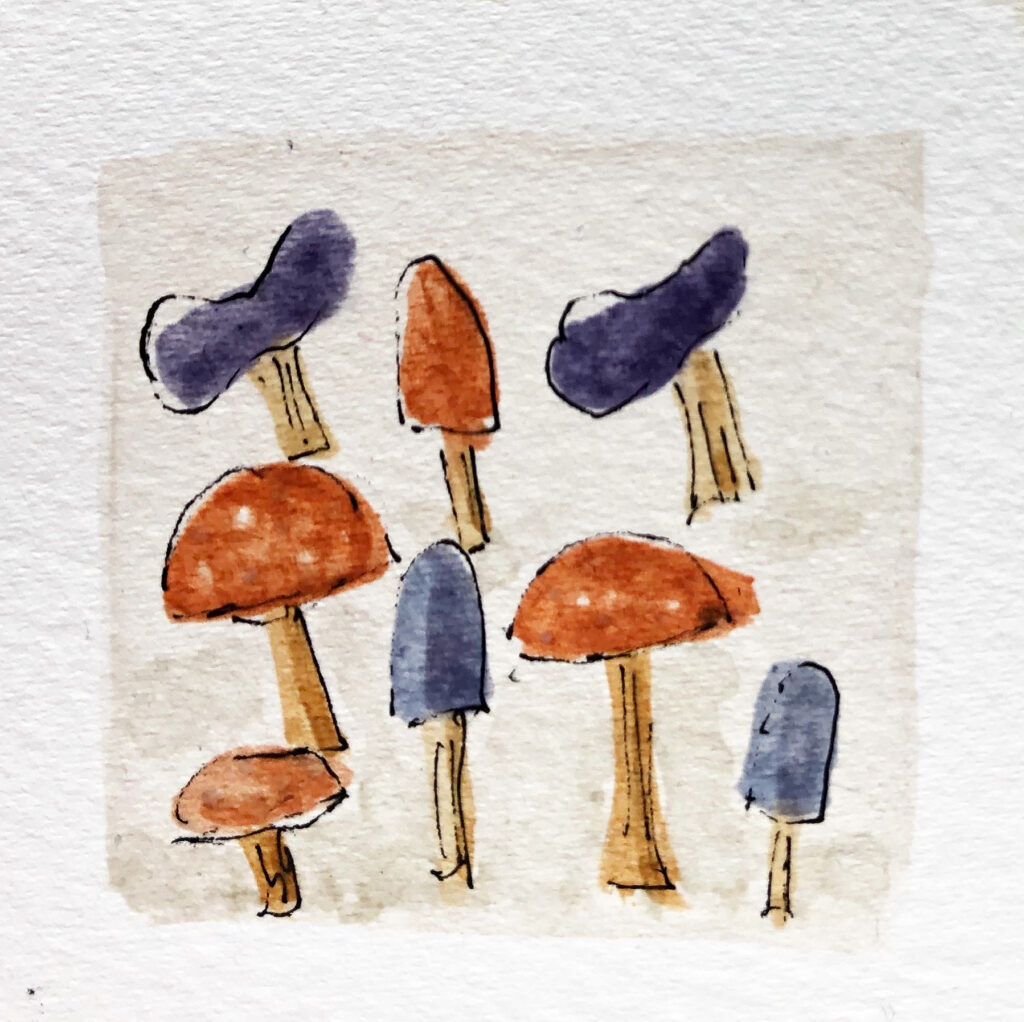 Eggshell white paint on rough cold pressed watercolor paper.
Since the colors mixed with eggshell white paint are opaque they can be used to paint on tinted surfaces including black. However, the effect achieved is quite different from commercially available gouache.
I hope this article inspires you to make your own eggshell white paint. Go ahead and experiment and have fun playing with a new unusual color!
If you want to learn more …
… enroll in my online course exploring the traditional process of making watercolor paints from pure pigments.
Watercolour Paintmaking Workshop
Reference links:
Disclaimer:   Kindly take necessary safety precautions during the paint-making process.  When working with fine dust, it is recommended to use a respirator or dust mask. Work in a well-ventilated area. Do not use containers that are used in the paint-making process for drinking, eating, or cooking food. The author will not be held responsible for any adverse reaction that you may have in carrying out this process. All information in this blog is meant for educational and information purposes only. The content represents solely my views and personal experience. The author may change the contents of this document at any time, either in whole or in part.