The last leg of our summer holidays last year was spent in south-eastern Styria, locally known as the Steiriches Vulkanland (Volcano land). This region was a hotspot for volcanoes – but that was 17 million years ago. Today there isn't any lava spewing out or any scorched black earth. Nature has done its course and created a beautiful lush green landscape of rolling hills. The hillcrests in this region are covered by forest and the valleys are dominated by farmland, vineyards, and dotted with small villages.
I was instantly smitten by the beautiful landscape of this region. Our first stop was at St. Anna am Aigen. Being a fervent sketcher that I am, I  took out a very frugal sketch kit from my backpack and quickly sketched a view of the vineyards in the valley from the lookout point.
After sketching we went for a short stroll towards the town center. The path was strewn with volcanic stones everywhere.  After all, we were walking on the earth in Vulkanland.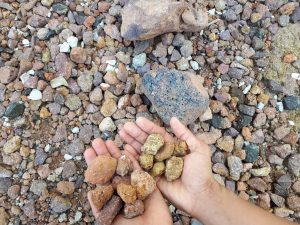 Colored volcanic stones, St. Anna am Aigen, Vulkanland, Austria
I grabbed a bag full of red and yellow colored stones to bring them home and transform them into watercolor paints.  Once you start working with natural pigments, you can't help but see them! Along highways, riverbanks, the ocean—anywhere where erosion has exposed layers of previously hidden earth, there are likely to be some flashes of color.
From St. Anna am Aigen we headed towards Bairisch Kölldorf in the district of Bad Gleichenberg. On our way, I sketched rapidly to capture the castle of Kapfenstein.  I had enough time to observe and sketch quickly from our moving car. That is the advantage of working with a limited palette of colors. It simplifies the thought process, gives you more control and allows you to paint more efficiently.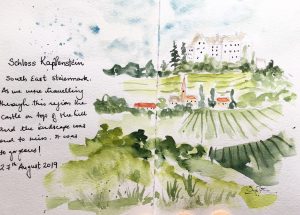 On this trip, we also visited south Burgenland. Whilst traveling in our car to the nearby town of Eisenberg, that is perched on a hill we came across a number of pumpkin fields. So,  I did another rapid sketch, this time of a pumpkin patch. The pumpkins at this time of the year had all been harvested for the production of Pumpkin seed oil, and what lay behind on the field were the golden outer shells of the fruit.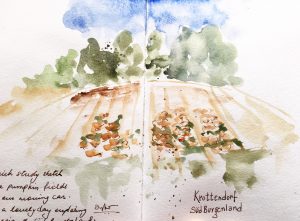 This won't be the last of my travel sketches because we will be on the move in a few month's time, and I will again get an opportunity to immortalize our family travels in my sketches!
"A traveler without observation is a bird without wings"-Moslih Eddin
Next up-foraged pigments from Austria.....coming soon!