You can create a wonderful natural dye garden on a balcony even if you don't have a garden or access to a community garden space.  In this blog post, I'll share the set-up and updates of my natural dye garden, which I started on the balcony of our new apartment earlier this year alongside an allocated garden space.
The microclimate of a balcony garden differs from that of the ground. Consider the following factors before starting a balcony garden: space, light, exposure, and the amount of time and energy you are prepared to commit. Our balcony faces west, so the majority of the dye plants receive adequate sunlight during the day.  The seeds I planted earlier this year have already made their way into the balcony garden.  There's something incredibly soothing and positive about planting seeds and watching them grow. I usually spend around 10 minutes every day tending my dye garden on the balcony.  An excellent way to practise mindfulness every day!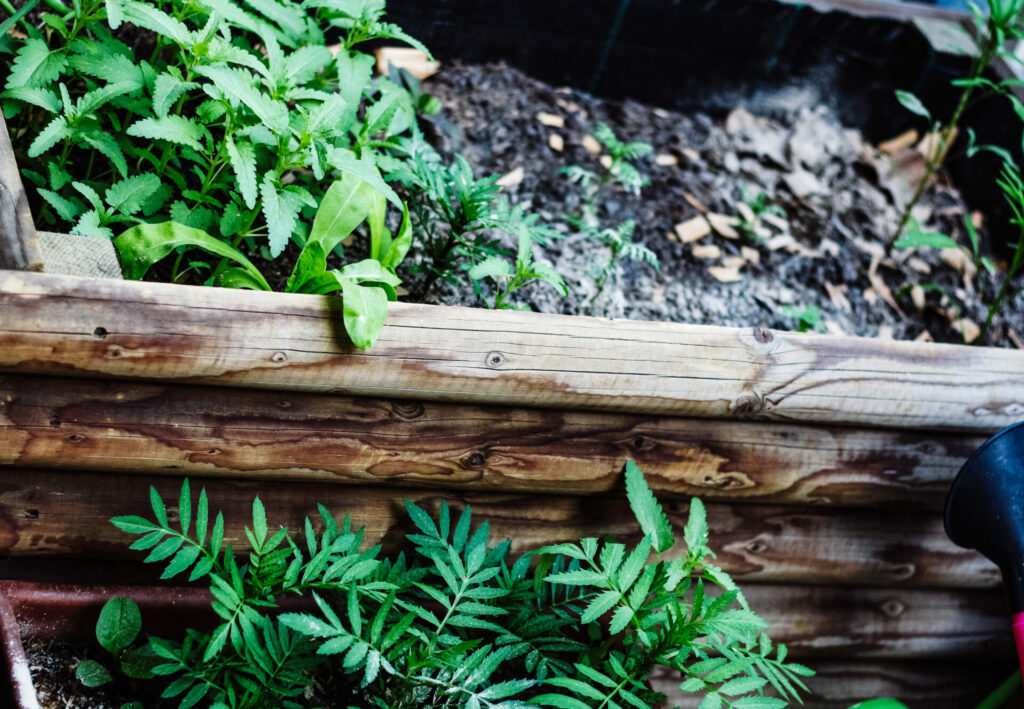 Growing a dye garden in containers on a balcony
I have set up my dye garden in a smaller sized raised bed and in various shapes and sizes of poly-resin pots.  The wooden raised bed on our balcony is made from lightweight wood and measures less than  0.5 square meters in size. It isn't particularly enormous, but I believe it will suffice as a source of ample botanical pigments in the months ahead. Additional variables to consider while growing plants in containers include:
weight
durability
weather resistance
 ease of watering
cost factor
For the past nine years, I've produced food on the balcony with the same containers and raised bed. This year, though, I'm looking forward to seeing the natural dye garden on my balcony blossom in these containers.
Filling up containers
I have used a conventional layering system for the raised bed and the various containers on my balcony:
the raised bed is lined inside with a non-woven fabric to protect the wood, and maintain moisture in the soil.
the lowest layer is a drainage layer for which used untreated natural wood chips. This layer could also be made using prunings, pottery shards or large pebbles.
the next layer is made up of organic compost
followed by a layer of black garden soil rich in humus
the next layer consists of normal garden  organic soil meant for raised beds
and finally, the soil layer is topped with organic mulch
The various layers in a  container fulfil a specific purpose – the organic compost layer act as a nutrient and water reservoir. It also generates heat, which has a positive effect on the plants. Due to its high humus content, this peat-free compost encourages soil life and healthy root development. Additionally, the plant grows faster and is supplied with the key nutrients it needs.
Dye plants in containers
On my balcony dye garden, I'm growing marigolds, dyer's chamomile, woad, and coreopsis. These plants can flourish in a variety of soil conditions and are easy to cultivate. To improve soil health, I watered them once with a culture of effective microorganisms.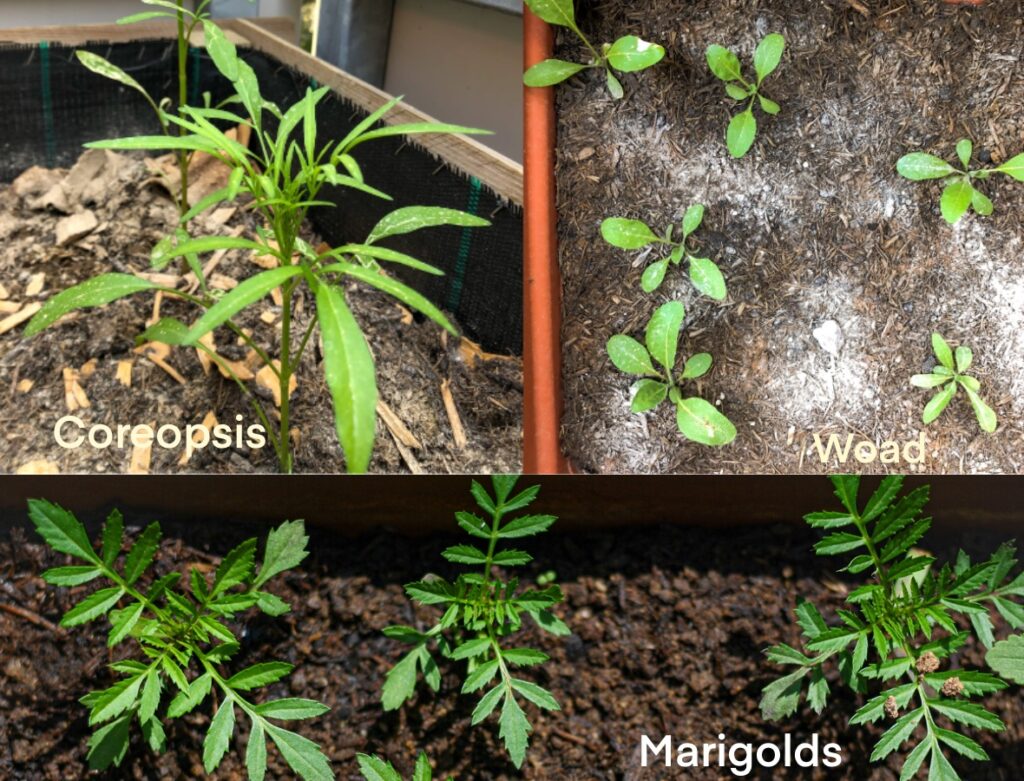 Watering the plants
Plants in pots are like children that want your continual attention and care. You must feed them and make sure they have plenty of water (but not too much) and receive adequate sunlight (but do not burn). Thankfully, we've had a few wet spells recently, so I haven't had to water my plants as frequently. Also, the plants I'm growing don't require a lot of water and can tolerate dry spells. Furthermore, the layering technique and mulching assist to maintain moisture in the pots, and the soil does not dry up as quickly. The concrete walls of our balcony emit a lot of heat, and the temperature of our balcony is always slightly higher than the ambient temperature.
Challenges
The pitfalls you might experience on a balcony differ from those in a classic garden setting. I will share the challenges of pest infestation in my dye garden in the next blog article.
Gardening is a learning experience and process. I wasn't born a gardener, but the more I spend time gardening, the more I learn about this mindfulness and creative practice. Here in this space, I took some tiny seeds, placed them into the soil and nurtured them. Together with the energies of the sun, water, earth and care, I have thriving plants. I am grateful for this miracle!