This is the final post in my natural dye garden series, as the gardening season has come to an end with the arrival of autumn. My natural dye garden served as both a teaching space and a very tranquil and reinvigorating environment for me. It is time to reflect on the previous season's accomplishments, put the garden to bed, and prepare it for the next season. I learned several things while tending to my first natural dye garden, including how to make it better for the following season. My natural dye garden performed better than I expected overall. This year, it was a simple run because there were no slugs, pests, or other problems, except for the hot European summer, which didn't suit some of my plants.
The purpose of cultivating a natural dye garden was to have my own source of an eco-friendly and sustainable natural color palette for making botanical inks and pigments. Inspiration and creativity abound when using a bioregional palette and working within that constraint.
Harvesting and storing natural dye plants
Most of the flowering plants I raised had prodigious summer blooms. Due to the unusually warm November weather this year, my balcony-dye garden's zinnias, cosmos, calendula and marigolds are still in bloom. The most flowers I harvested were in the months of July, August, and September.
After the flowers were harvested, I spread them out on absorbent paper to dry for a week or two before putting them in glass jars to preserve them. Due to their low moisture content,  flowers such as cosmos, calendula, marigold and coreopsis dry out relatively quickly.
Seed saving
Saving seeds offers much more than just cost savings for the following growing season. When you save the seeds from your plants, you are saving the seeds from the garden's best-adapted plants, which have bloomed and set seed. These plants have adapted to your surroundings and have grown through your seasonal weather patterns. Flower seeds will become more resilient and adapted to your garden space over time if you collect them and save your seed from year to year. Cosmos, marigolds, calendula and coreopsis are some of the easiest flowers to save the seeds from, although they are all great at self-seeding.
In addition to the flowers, I harvested a ton of seeds from all of my annual flowering plants this season. Because many of the seeds from my plants spilled all over the garden bed, I could also harvest from the second-generation plants that went to bloom. A reliable indicator of the seeds' viability!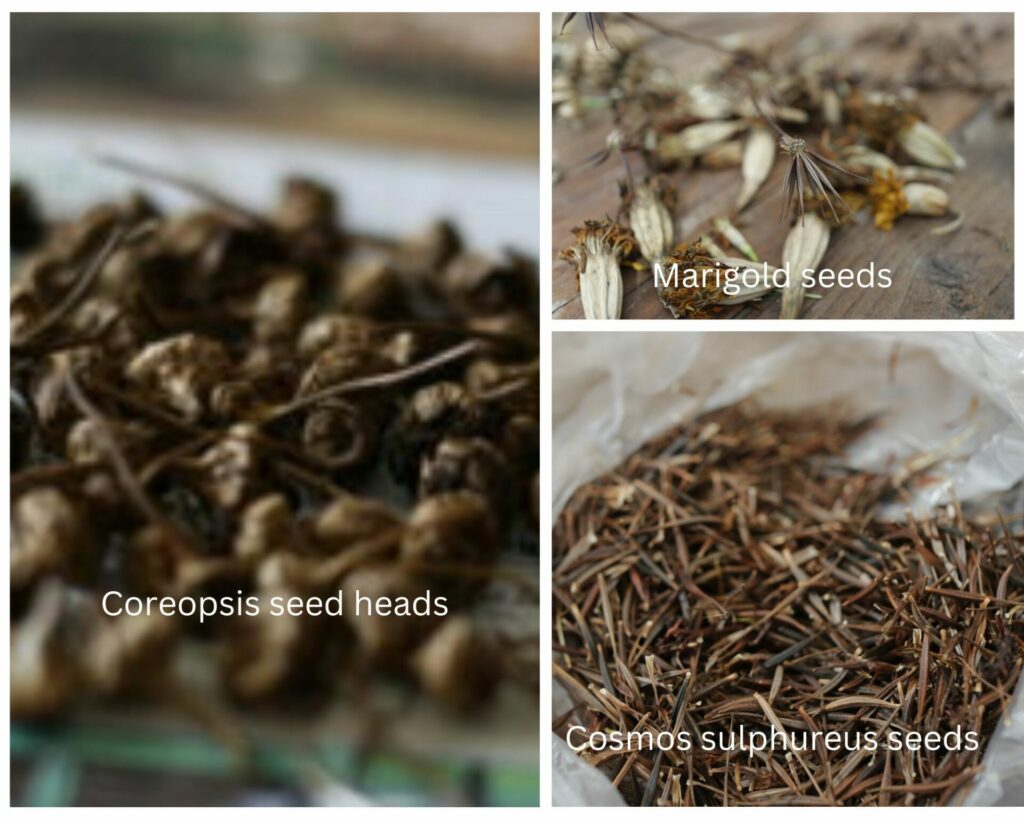 Japanese indigo and Woad
I struggled a little bit to grow both of these plants. In particular, the Japanese indigo growing on my balcony perished in the sweltering heat of the height of the European summer, and the ones planted in the garden bed didn't grow at all. I came to understand that Japanese indigo prefers partial shade over intense heat. As a result, I dug up the gangly plants from my garden bed and replanted them in the pots on my balcony. I was thrilled to see how quickly they adapted to the new environment and flourished. They are blooming right now, and I can't wait to collect seeds for the following year. Due to many of my plants dying, I didn't have an abundant harvest, but I could still extract the beautiful teal-blue indigo pigment from them.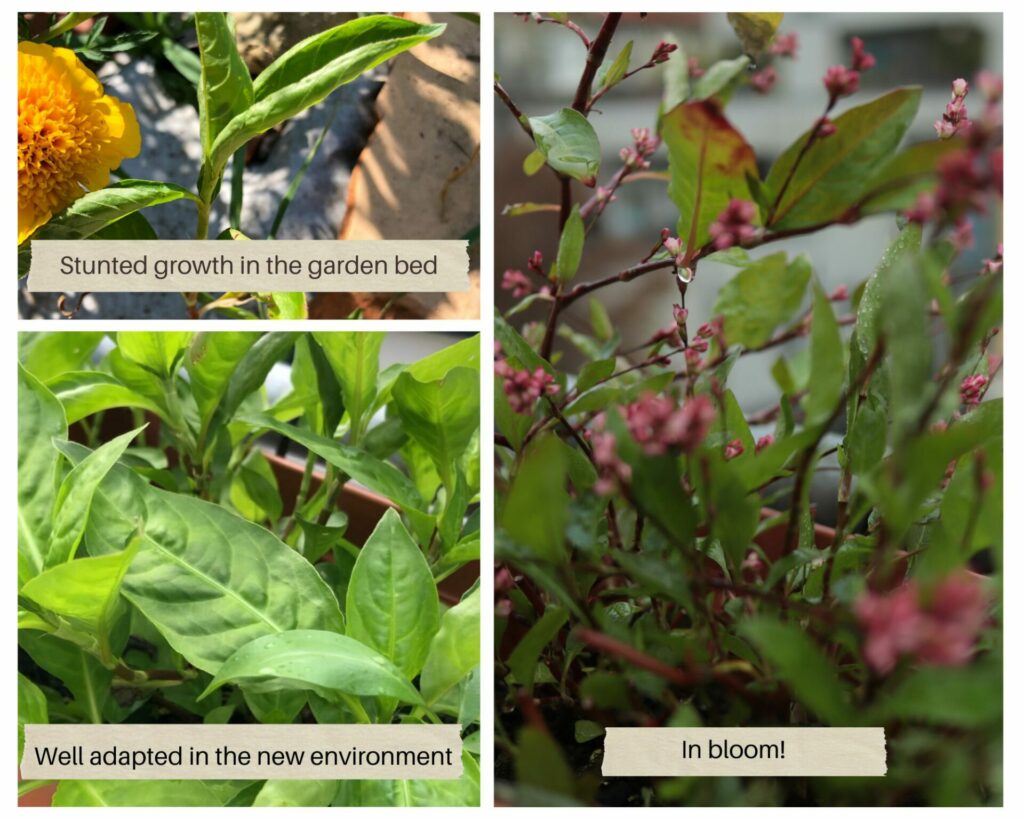 Even though the woad plant wasn't as troublesome as the Japanese indigo, it didn't develop as it should have if it had been grown in a garden bed. I raised this plant in a big pot because it is invasive. After slightly adjusting the extraction procedure the second time, I obtained a deep blue indigo pigment from the small harvest.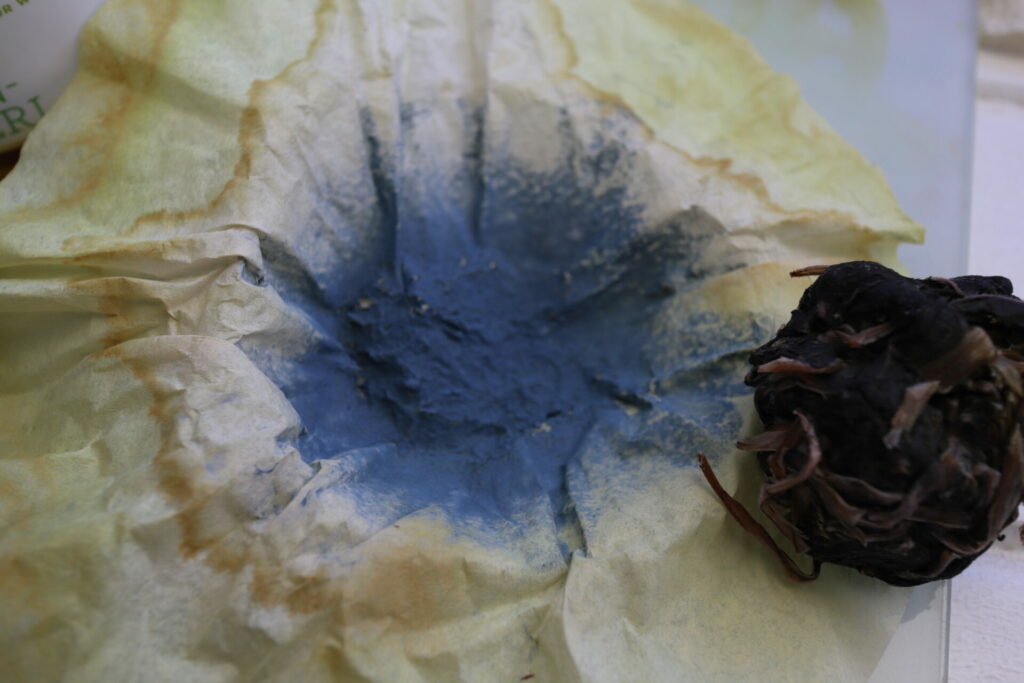 Extracting lake pigments from Coreopsis tinctoria and Cosmos sulphureus
Dyer's Coreopsis and Cosmos are my favorite natural dye plants to grow because they are very simple to take care of and yield a variety of vibrant colors with little effort, making them incredibly versatile and satisfying to use for extracting lake pigments and making botanical inks and dyes. I've finally found a natural substance that I can use to make rust orange colour for my travel sketches. A natural alternative to synthetically manufactured Quinacridone gold watercolor paint.
Other dye plants, except for woad and indigo, can be dried and stored for later use. Marigolds and calendula are not only excellent for natural dyeing, but they also have numerous health benefits. The dried flowers from both of these plants can be used to make an infused oil with antibacterial and antifungal properties, which can then be used to make homemade salves.
I learned a lot this year while growing a natural dye garden. The most important lesson is that there are no right or wrong ways to garden. All gardens are beautiful! We are in tune with ourselves and nature as we garden through minor setbacks and beautiful moments, observing the plants prosper and decline through the seasons.
Gardening is a solitary, meditative, quiet, and leisurely activity. It teaches you to be environmentally responsible and that it is possible to be self-sufficient, even on a small scale.
Grow your own natural color palette!