Before departing on a three-week summer vacation, I visited my natural dye garden to tend to my plants, gather the blooms, and take care of the damage caused by the severe thundershowers two days before.
When I arrived, the garden was in full bloom, and the pollinators were busily performing their jobs, but the thunderstorms had seriously damaged quite a few coreopsis plants.
I began by collecting the bright and zingy orange cosmos flowers, then plucked the coreopsis blooms from the broken branches and additional flowers from the intact plants. It took longer to collect the flowers since there were so many. I harvested as much as possible to encourage the plants to produce additional blossoms.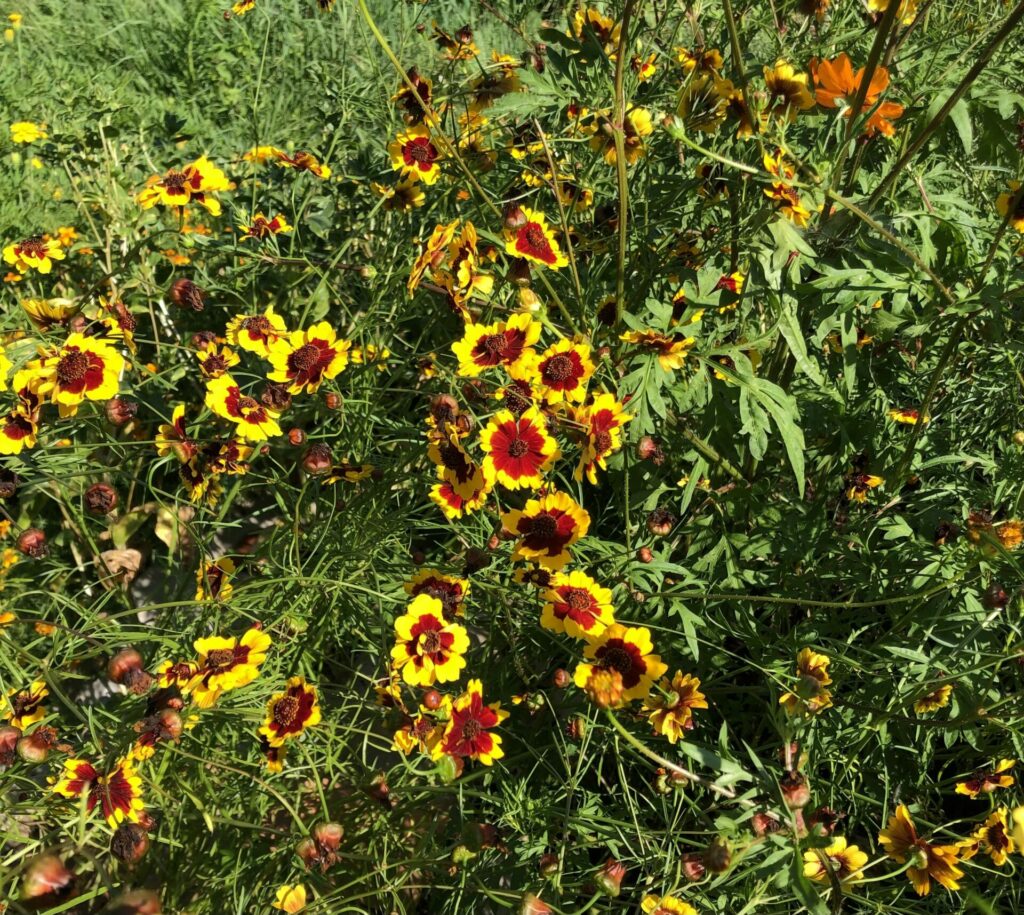 Seeing so many of the bright orange cosmos flowers finally bloom was a joy. The cosmos plants on the garden patch are approximately two meters tall; in comparison, it is not even half a meter tall in the pot on my balcony dye garden, yet it produces flowers. It's encouraging to know that you can still grow cosmos in pots if you don't have access to a plot or shared garden area.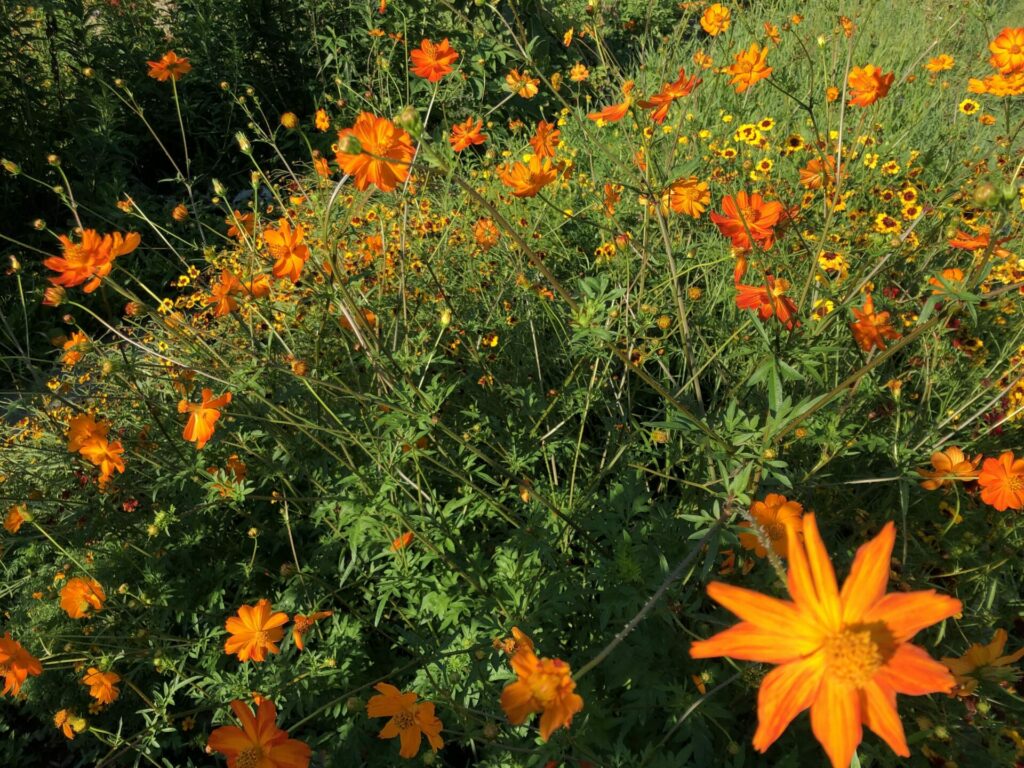 The marigolds were still blooming slowly, but there were plenty of buds on every plant. The safflower also produced several buds, and I was extremely eager to see them blossom.

My natural dye garden after returning from the summer break
It's difficult to leave anything neglected, especially when you've put your heart and soul into it. It was a similar circumstance for me. I wanted to see my family, whom I hadn't seen in three years, and I also didn't want my garden to suffer. I was more concerned about my balcony dye garden than the garden on land. Fortunately, my husband was only gone for a week, and he could look after my dye garden while I was gone. However,  one week's absence had a significant effect as many plants had progressed to the seeding stage, signalling the end of their existence. Before pulling them out from the earth, I thanked my husband for taking care of my precious space and for the plentiful harvest my garden had produced.
Marigolds
After returning from the holidays, I was happy to see the marigold patch in my garden patch in full bloom. They are the easiest flowering plants to cultivate, don't require much care once they have established themselves, and are pest-free. I grew two different varieties of marigold on this patch.
Coreopsis
The coreopsis plants performed their purpose, and most reached their lives end.
Safflower
The safflower plants died, and I never saw them blossom, which was disheartening. I believe it was due to too much competition for nutrients from the marigold bushes and the excessive heat in Europe, which took its toll on my plants. Hopefully, next year I can see them blossom.
Japanese Indigo
The plants didn't grow on the land for some reason!  The garden patch receives abundant of sunlight throughout the day, and there is no shadow to hinder the development of these plants, so I'm not sure why that is?! Perhaps something is lacking.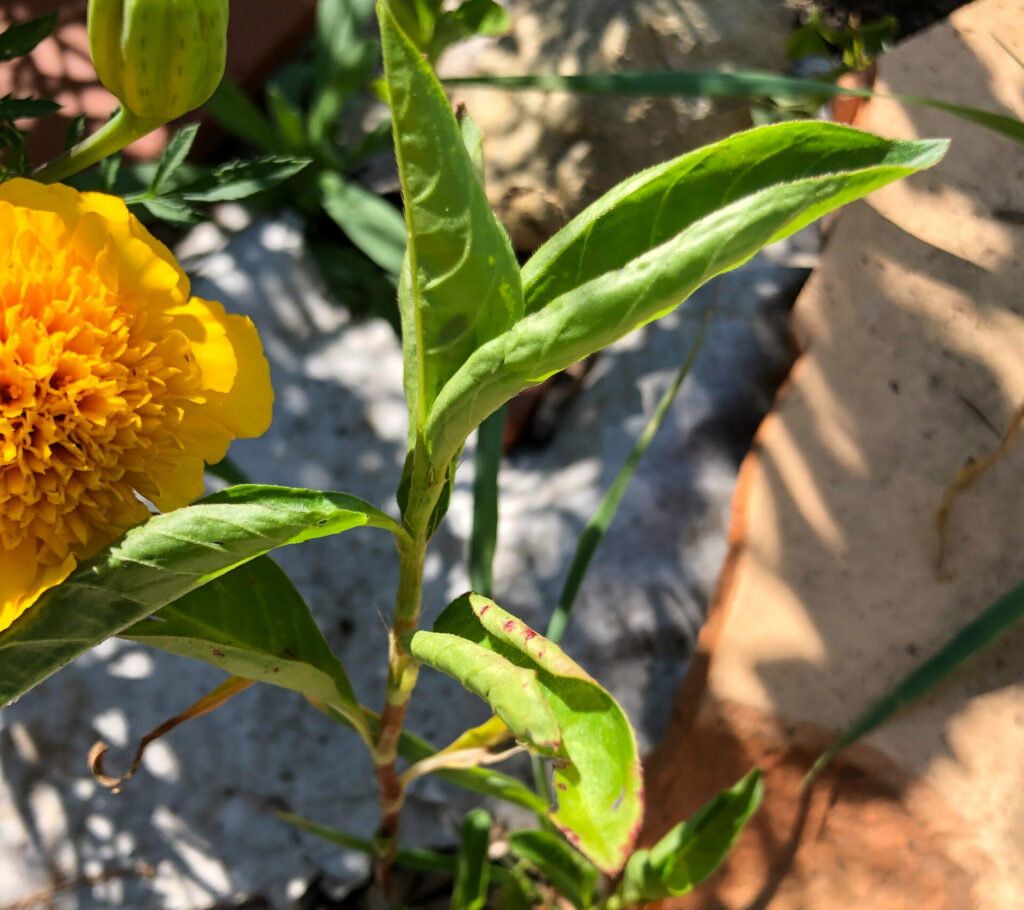 Balcony Dye garden
The dye garden on my balcony did wonderfully since it was adequately cared for except for one or two issues my husband couldn't have resolved.
Marigolds
Considering how simple these plants are to grow, they also did admirably well in pots. I didn't anticipate seeing the little plants I had left behind develop into tall bushes after returning home. I have five different varieties of marigold growing on my balcony dye garden.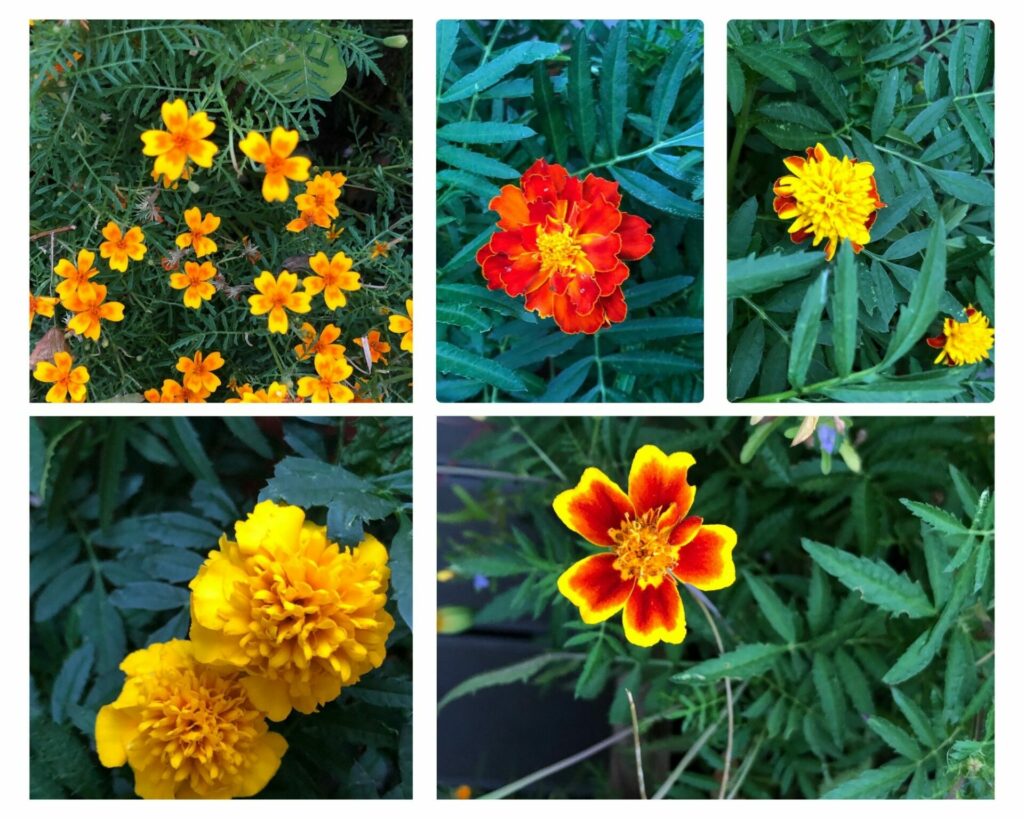 Japanese Indigo
I couldn't wait to check on my indigo plants. Sadly, one of the plants perished from heat stress, and the other plants also showed symptoms. Due to the heat that is radiated from the cement walls, it can become rather hot on our balcony.
Woad
The woad did beautifully, but I saw that someone had been eating the leaves. Grasshoppers are unwelcome guests who can harm your plants. I am looking forward to extracting indigo from the plants.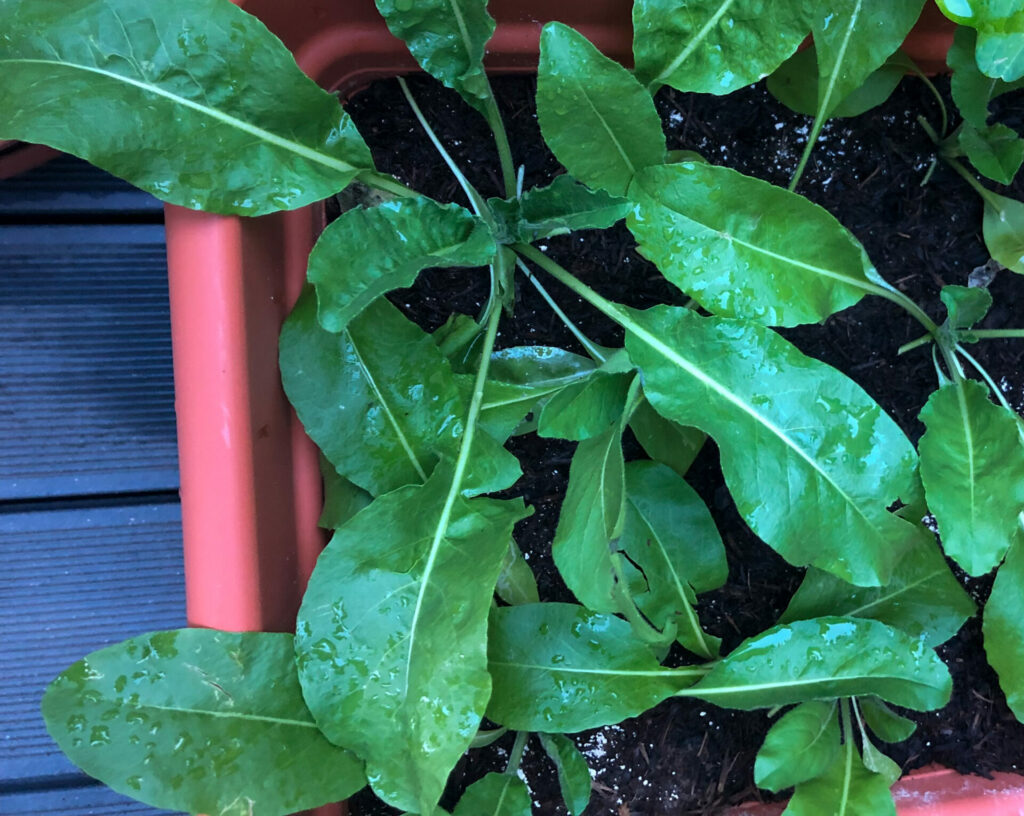 Zinnia
Zinnias are low-maintenance, simple-to-grow flowers, much like marigolds. Before I left, I was thrilled to see a bud forming on the plant, which flowered while I was gone. There are now additional branches and buds sprouting on the plant after I asked my husband to harvest them. Only two of the 15 seedlings survived, and they are thriving!
Dyer's chamomile
The growth of dyer's chamomile has not changed much. I'm wondering if it's because they were growing in pots or because they are perennial plants that need time to mature. Several articles, however, state the opposite. I'll just have to wait and watch.
Current status of my natural dye gardens
Dye garden on land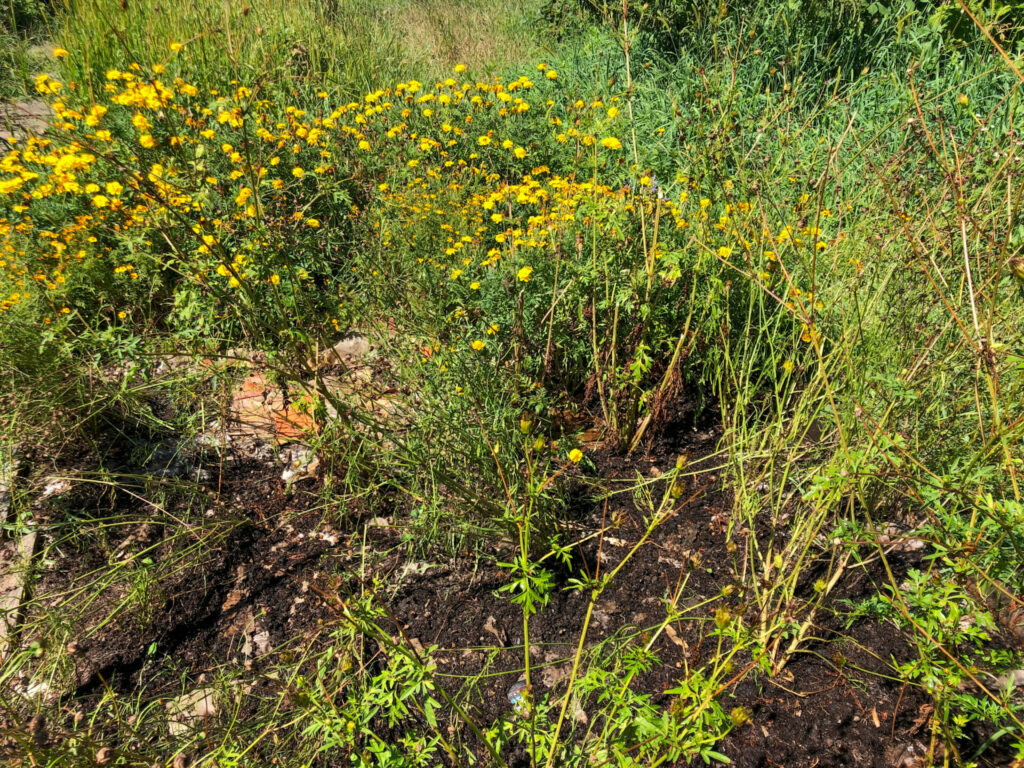 Dye garden on the balcony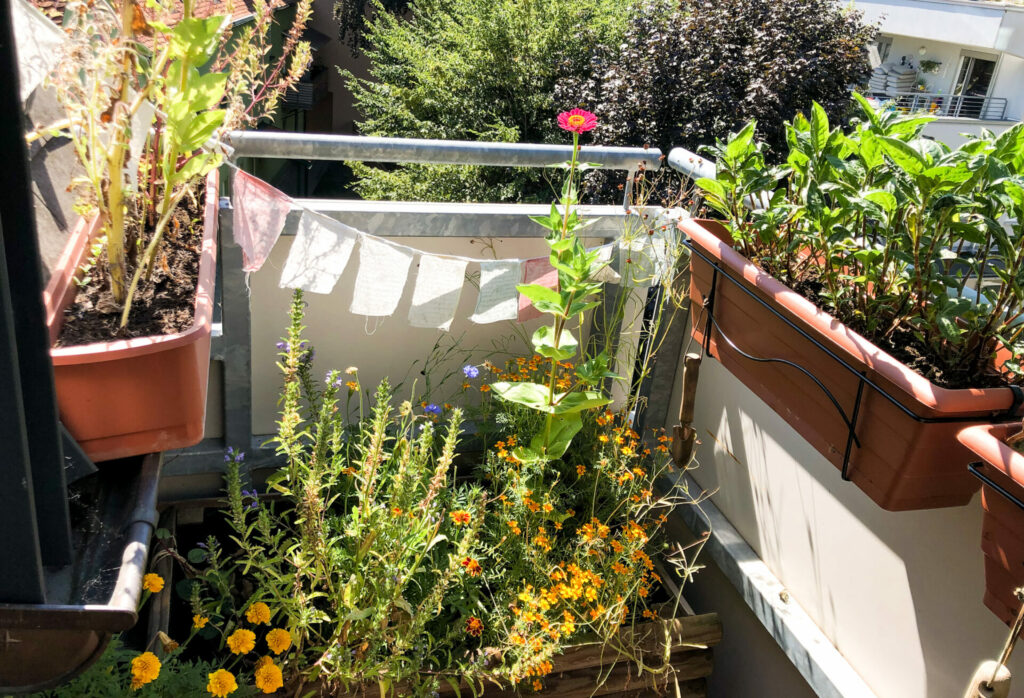 As a first-time gardener (on land), I'm pleased and content with how my dye garden(s) turned out. I am grateful that my natural dye gardens have produced a plentiful harvest. They are still thriving, and I am eager to extract pigments and make inks from the harvest.
More updates in my next blog!