Two weeks ago, I went to tend my allocated garden plot to transplant saplings of dye plants into the Earth. The field was readied for gardening five weeks ago, but what awaited me was a jungle of weeds instead of a prepped garden plot. The rainy weather a week prior helped the seeds hidden in the soil, patiently waiting for the ideal conditions to sprout. All of the efforts to prepare the garden bed had been for nought.
Lesson learned
I should have covered the prepared garden bed with garden vlies or cardboard to prevent weed growth.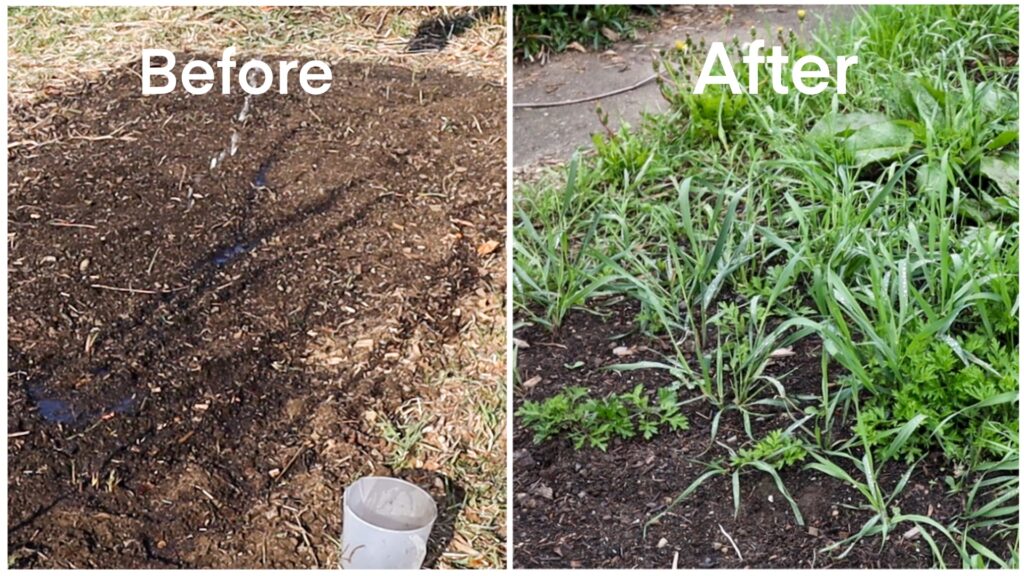 Clearance Mulch
I realised after seeing the garden what kind of persistent perennial weeds exist and what my next course of action should be to tackle this. So I spent an hour hand weeding, hoeing and digging up annual weeds and large plants. However, I didn't attempt to remove the persistent couch grass from the roots because I knew it would be counterproductive. In fact, the more you try to get rid of them, the more likely they will return with wrath. Thankfully, there is a much more effective way to tackle it: Clearance mulch.
The principle is simple: to grow, all plants require light, and without it, they will perish. This implies that if you cover an overgrown plot with a material that blocks the light, it will lead the weeds to perish eventually.
I utilised cardboard without printing ink to cover the soil around the saplings; it is a free resource and, unlike landscaping plastic, it enables water and air to pass through, allowing soil life to thrive. Because some of the saplings were so small, I merely covered a portion of the soil bed with cardboard. I'll let the saplings grow a little taller before I repeat the process to inhibit weed development.
This week, the couch grass grew again where the cardboard was not covering the soil.  But this time it wasn't much of a work as a bit of hand weeding did the job.
Fertilising and Snail repellent
I also covered the soil with organic mulch and sprinkled it with universal garden fertiliser, and snail repellent.
I also sprinkled used organic coffee grounds around the saplings. It's not just a snail deterrent but also acts as a great fertilizer. Additionally,  I also sprinkled some store-bought ecofriendly Snail repellent  ( because I ran out of coffee grounds) that is composed of lava fragments infused with Lavender and other essential oils. It does not contain iron phosphate, which is the most commonly recommended product and isn't really environment friendly.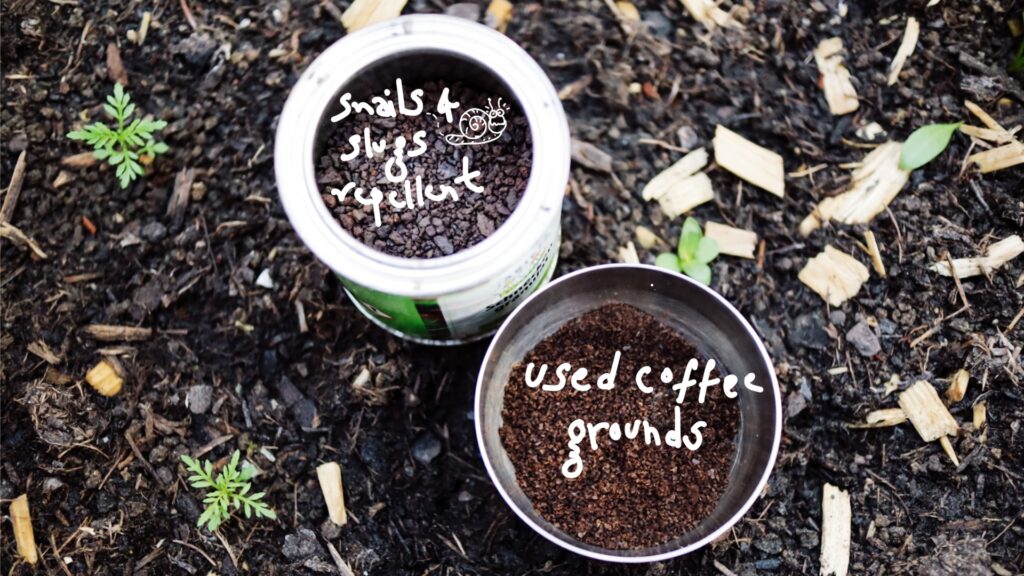 The saplings have not had a significant growth spurt, but they are in good health. The dye plants I'm cultivating on the balcony, on the other hand, are much taller. In my next blog post, I'll share the progress of growing a natural dye garden on a balcony in containers.
Natural dye plant saplings in the soil