Nature offers us a glorious abundance of a vibrant and bedazzling palette of rainbow colors. It is easy to forget that not long ago, all dyes and paints were made using natural resources. Not to mention natural colors are safe, eco-friendly, and sustainable, and it gives pure joy to collaborate with nature to express our creative inner-self. 
This year during early summer, I finally got a chance to conduct a long-due natural watercolor paintmaking workshop for children titled "Colors of Nature – Malen mit Pflanzen". The workshop was scheduled to take place during summer last year but it was canceled due to the unprecedented situation!
Making paints from natural resources is an excellent way to introduce our children to the beautiful world of colors, to come in direct contact with nature, and to explore our natural world while playing and learning. 
There are a number of different methods for extracting pigments from plants, flowers, berries, etc. that can be used as watercolor paints. Given the age group of children who attended my workshop, I ran through the simplest method described below for making watercolor paints.
Supplies :
Pestle and mortar
Frugal option: Stone to grind and coconut shell or any bowl that can be used as a mortar.
Sieve
Water
Honey
Glass jar
Clove oil (optional)
Method
Step 1
We formed teams and each team was assigned with the task of exploring and foraging for flowers, berries, herbs, or any other potential natural pigment source. The organic Hofgarten (Court Garden) at our workshop venue was blooming with roses, lavender, hibiscus, st. John's wort, poppies, etc. There were a variety of herbs growing in the garden too but to keep the process simple we collected just a few known flowers.
Step 2
We collected a beautiful range of colors for making watercolor paints. I also demonstrated making colors from walnut leaves. But it was a bit too much work that not only would have tired those delicate little fingers but would have also stained them.
So we used only flower petals for making watercolor paints during the workshop.
Step 3:
Using a pestle and mortar the petals were pounded to extract the natural dye.  A few drops of water were also added to pull out the dye. We also used stones and coconut shells (frugal option) that served as pestle and mortar for grinding and extracting the natural plant dye. 
Step 4
The crushed matter was allowed to sit briefly before straining it through a sieve.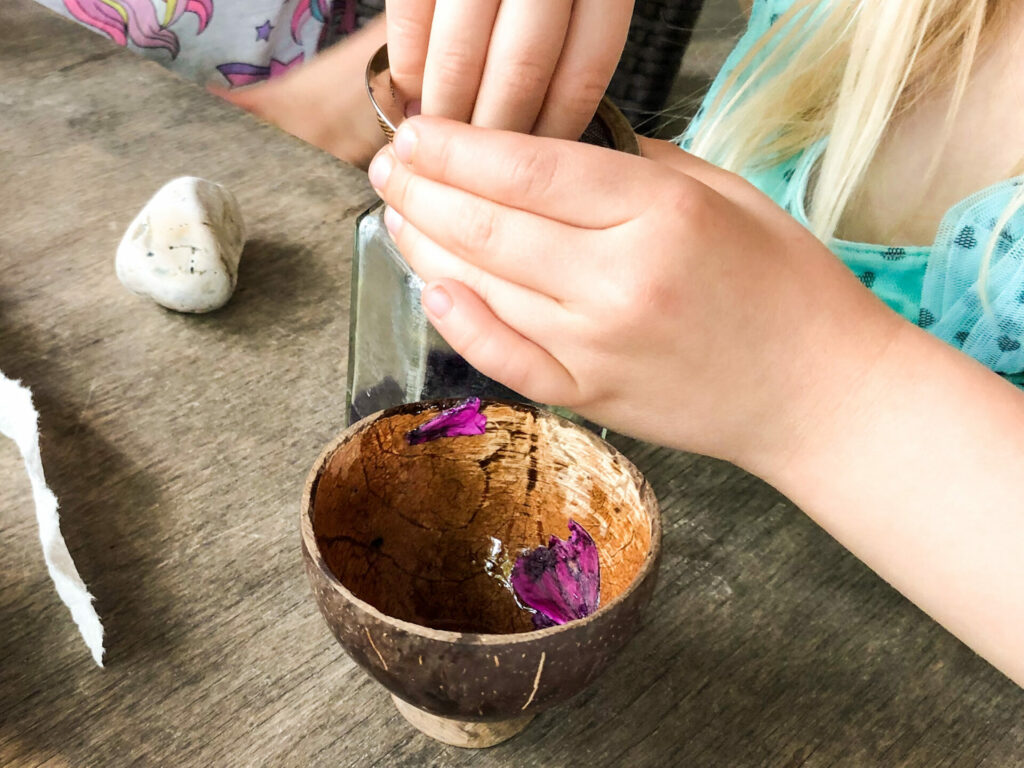 Step 5
A little bit of honey was then added to the dye extract. Honey works as a binder. This step required supervision to make sure that too much honey was not added to prevent making the dye extract very sticky.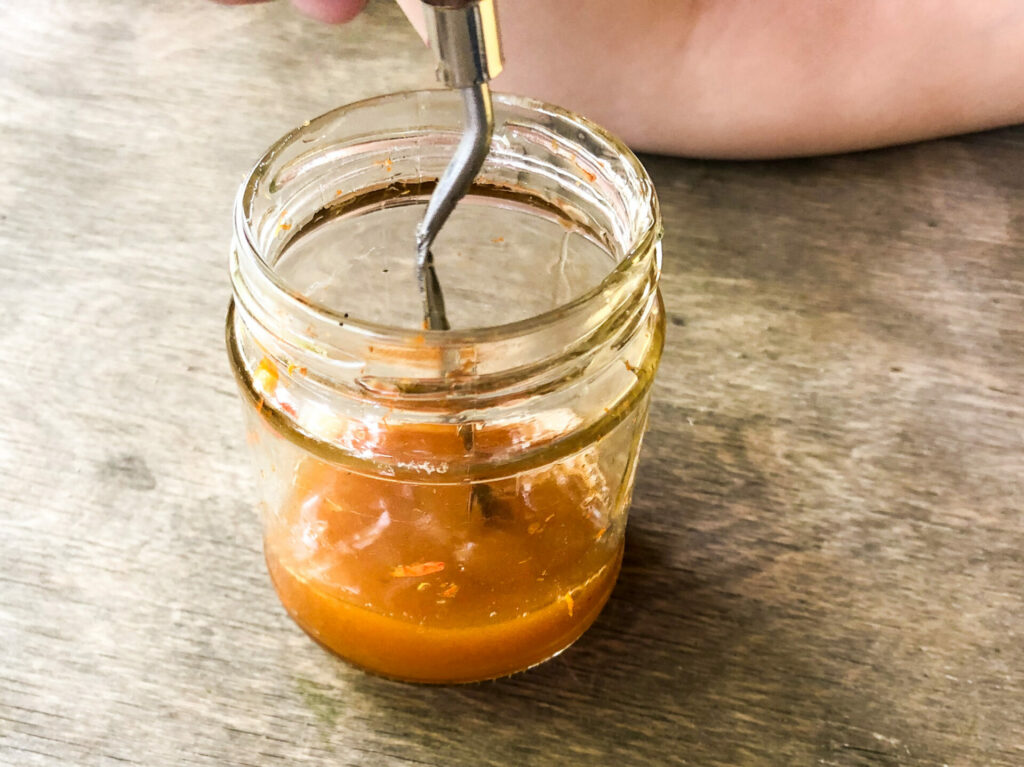 Step 6
The dye extract was now ready to be used as watercolor paint. We used a variety of foraged natural materials to do some mark-making and to express our creative inner-self!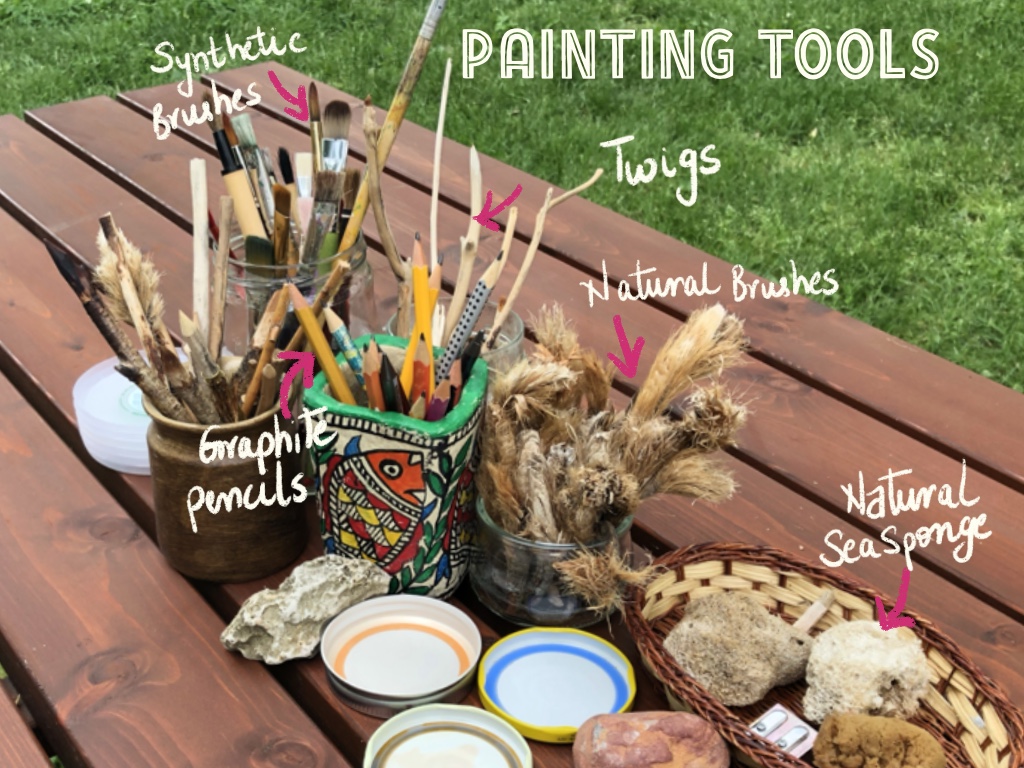 It was so delightful observing the flow of creativity in children.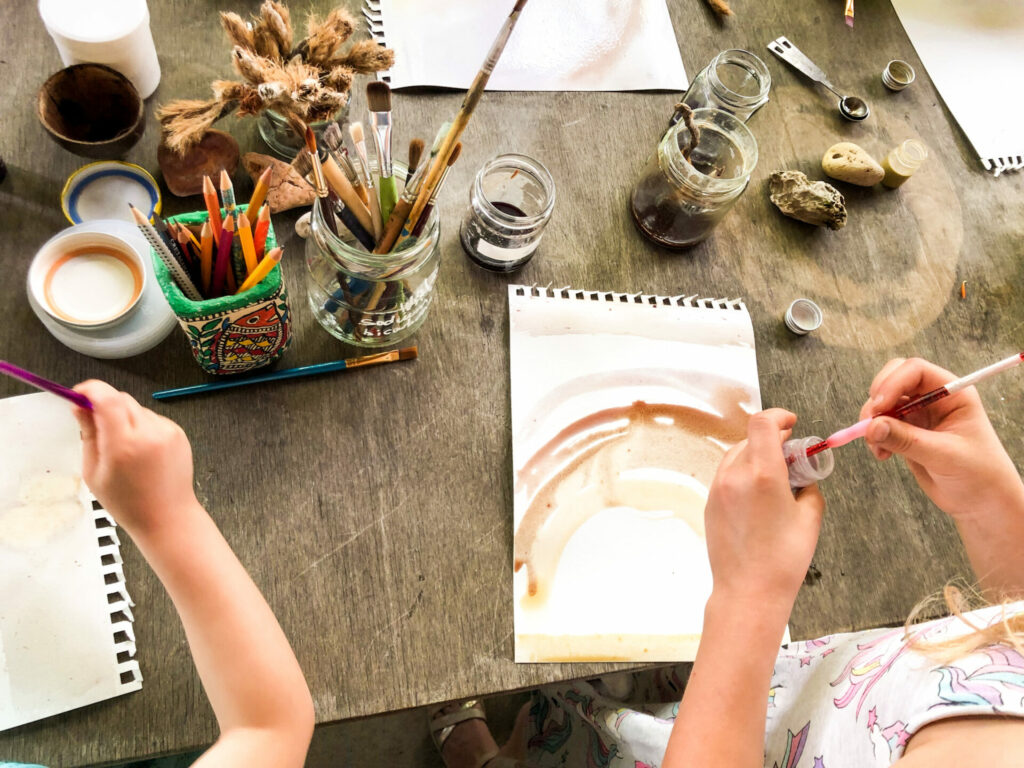 The great thing about using nature to create with is that it can be found all around you and it doesn't cost a dime! This is a safe and fun way to keep our children entertained and busy, and it also provides much-needed creative and developmental stimulation.
My little participants at the workshop loved doing this nature art activity! It was a wonderful experience working with them and having a great time observing their approach and the work process. Not to mention it was a great opportunity for me to brush up my german speaking skills too :-)!
I must also acknowledge the immense help I received from my husband and son during the workshop.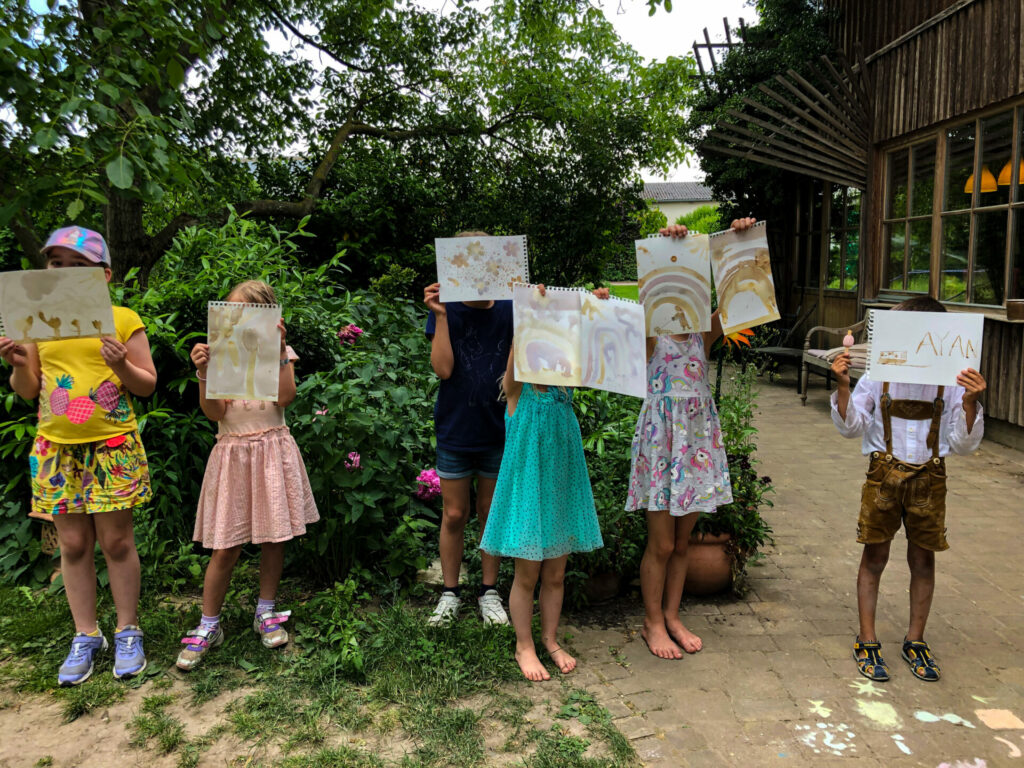 'Learn to express yourself freely' is what the children teach us every day!
Looking for more ways to combine learning with nature? Check out my online courses here.