It was in the year 2005 I was still a graduate student finishing up my Ph.D. program in Australia when I was introduced to this exotic fruit called Avocado. I had never heard or seen this fruit before that, and honestly I never really liked the taste of it either but gradually over the years my taste buds developed a liking for avocados. If someone had asked me then what I did with food scraps? I would have simply replied—well, I discard them into the biodegradable waste bin!
But that is not the case now because as I took to the path of creating sustainable art using only natural and foraged pigments, I learned that avocado stone and its skin makes for a great source of natural ink/dye. I had to explore it for myself, so I experimented with it for making lightfast, beautiful, and non-toxic ink. However, since avocados aren't a local fruit in Austria, and we are pretty strict about consuming regional and seasonal produce from our organic community-supported agriculture (CSA) farm, I seldom make a visit to the supermarket just to get an avocado to satisfy my taste buds with its marvelous flavor and to make gorgeous ink from its stone.
Making an avocado ink or dye is a very simple process. You require very few supplies to make an ink that is an absolute delight to the eyes!
Supplies
100 ml (about 1 cup)  water (or distilled water if you want to experiment with)
1 tsp baking powder (sodium bicarbonate; this is what I used )
gum arabic powder ( a tiny pinch for making ink)
stainless steel pot or any non-reactive container
mesh strainer (a funnel with a coffee filter or a muslin cloth)
a small glass bottle for ink storage
Clean the avocado stones thoroughly with your hands or use a scrubber/ brush. Featured in the image are stones from different varieties of avocado that I had collected from our travels. It's best to use fresh stones.
Chop the avocado stones into pieces.
In a pot bring the water to a boil together with the pieces of avocado stone. When it starts to simmer, add a pinch of baking powder. This shifts the pH of the solution and you see an immediate change in the color. Despite the avocado stones being about 5 months old and all dried up I was still able to extract color out of them. Ideally, use fresh stones for a more intense hue.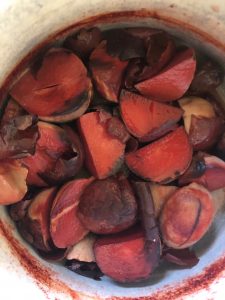 Simmer this for about 20 or 30 minutes with the lid. Do not overcook as it destroys the color of the dye. We have an electric cooking apparatus that I switch off after boiling the solution for 5 minutes. I let the pot sit on the top and let it simmer till the heating coil cools down (approx. 20-30 minutes).
After some time the water turns into a beautiful dark red color.
Test the dye color with a small piece of watercolor paper.  If you are satisfied with the color, strain the ink using a fine mesh strainer, muslin cloth, or a coffee filter.
You could also reduce the volume of ink by simmering it a bit longer without the lid (not so energy efficient). The color will get more intense. The ink can also be thickened by leaving it to evaporate naturally for a couple of days at room temp after the addition of natural preservative or a few drops of alcohol.
If you're happy with your ink then add a bit of gum arabic to thicken it. You can also use the ink without gum arabic.
Transfer ink into a glass bottle. You could add clove or thyme oil as a natural preservative to prevent mould growth or a few drops of ethanol if you don't have any essential oils.
The beauty of avocado ink is that you can create a variety of colors from peach to blush pink to a deep brownish-red. The depth of the shades one achieves depends on how many pits you use and how long you leave the solution to steep.  The final color of the ink also depends on a number of variables in this process; pH and mineral content of water, and the presence of inevitable pollutants, the origin of the fruit, the variety of fruit, season, weather, fresh vs frozen stones, etc.  The variables are almost endless. One must experiment and discover!  Additionally, the range of colors one gets is also due to the presence of alkali mordant (in this case sodium bicarbonate), an important part of this recipe which helps bring out a more vibrant color.
I really enjoy delving into the world of natural colors. This also makes for a great project to get the kids involved and showing them the magic of our natural world! I love using this ink for creating sustainable art and for making note cards or gift tags for the holiday season.
I hope this article inspires you to transform organic waste into something of beauty!
Tutorial for naturally dyed and gilded edge gift tags
Capture the colors of your landscape by making natural inks. 
Online Course: Making Natural Inks
References:
https://hort.purdue.edu/newcrop/morton/avocado_ars.html
https://www.itfnet.org/v1/2016/05/avocado-name-taxonomy-botany/
Disclaimer: Kindly take necessary safety precautions during the ink making process. Do not use containers that are used in the ink making process for drinking, eating, or cooking food. The author will not be held responsible for any adverse reaction that you may have in carrying out this process. The author may change the contents of this document at any time, either in whole or in part.