Paper is a versatile medium produced by mechanically or chemically processing cellulose fibers extracted from wood, fabric rags, grasses, or other plant sources in water. The water is then drained through a fine mesh to leave the fiber evenly distributed on the surface, followed by couching, pressing, and drying.
There are many different types of papers available today. The range of papers that work well with water- and alcohol-based natural inks is too vast for this article to explore. In this article, I discuss my favorite papers for writing and drawing with natural inks.
Let's begin with a summary of the factors to consider when choosing a piece of paper to write with any kind of ink.
Feathering
Paper can be broadly categorized into two types: coated and uncoated forms. Uncoated papers tend to feather or have ink spread out through the paper unevenly (examples include recycled or handmade papers). This happens because the paper absorbs the ink too quickly, much like a tissue does when it absorbs liquid. Instead, papers with a finishing layer or polymer coating applied do not exhibit a feathering effect when ink is applied, such as glossy printing paper.
Texture
Paper finishes or paper textures describes how a piece of paper feels in your hands. Is the paper slick and smooth to the touch ?  Is it textured and rough? Every paper finish has a particular intended function and every paper texture is unique.
Natural ink and dip pens pair well with papers that are smooth, as the nib just glides over the paper. Coated papers are generally smoother, whereas uncoated papers have a rough texture. Cotton paper, for example, has a woven texture similar to a piece of fabric. Using natural inks and calligraphy pens makes such papers challenging to write on.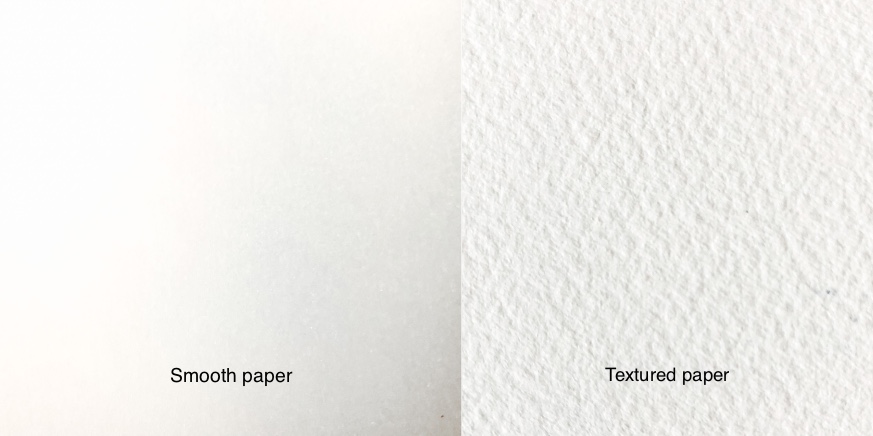 Drying Time
When you write on paper, it takes some time for the ink to dry completely without smearing. Modern inks are formulated to speed up the drying time compared to handmade natural inks. Therefore, the dry-time factor is also influenced by the type of ink used. Still, all else being equal, some papers dry faster than others. Smooth and coated papers, on average, take longer to dry than uncoated, rough papers. Furthermore, a paper resistant to bleed and feathering will take longer to dry because the ink must evaporate rather than be absorbed.
My favourite papers to use with Natural Inks
Depending on the purpose, I write and sketch with ink on various paper types. I use notepads or notebooks daily to write down ideas, doodle, gather inspiration, and so on, and I use a watercolor sketchbook with 25% cotton content or 100% cellulose-based paper for painting on location with ink and watercolors.
Notepads
My favourite paper brands that I use on a regular basis are Rhodia, Clairfontaine, and Fabriano. All three brands offer ruled, chequered, plain, or dotted notepads, depending on your preferences and have a smooth surface and a low absorbency.
Rhodia is a well-known high-end paper brand popular among fountain pen users because of its smoothness and ink resistance. I've been using this particular brand of paper since 2006. Because it is not readily available in my location, I opted for Clairfontaine and Fabriano. In comparison to Rhodia, both of these brands offer very affordable and high quality notepads. Infact, Clairefontaine paper is manufactured by the same company that produces Rhodia paper, so the paper quality is excellent. Fabriano, well, their name speaks for itself!
In conclusion, when writing with natural inks, using organic writing tools or dip pens on papers with low absorbency is beneficial because your ink will not bleed or feather.
As seen in the images below, all three brands  offer smooth lines on paper using natural inks.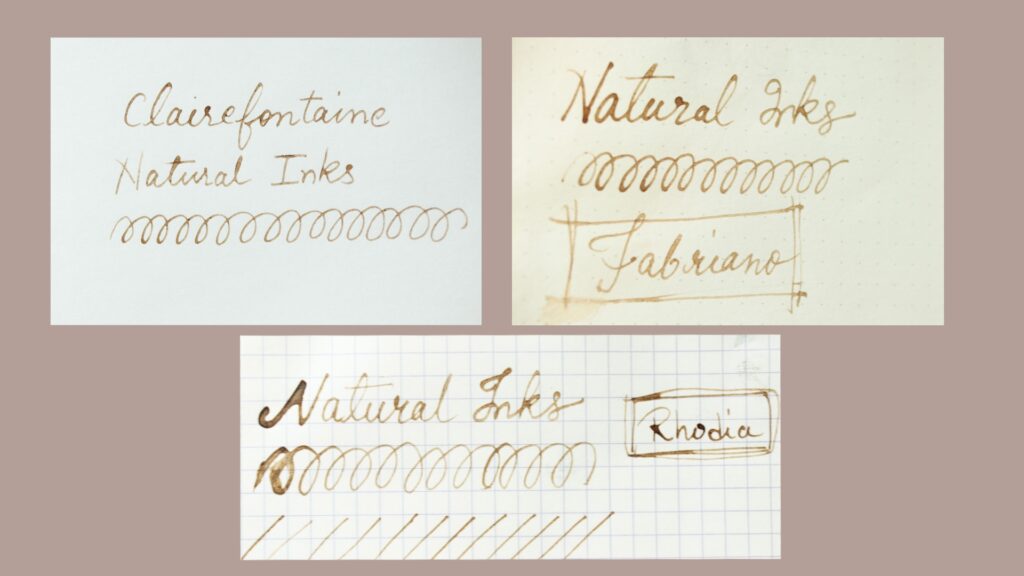 Below is an example of paper where the ink bleeds and feather. This is a printing paper of inferior quality with perhaps medium coating making the paper absorbent. One can still write on this paper but only on one side!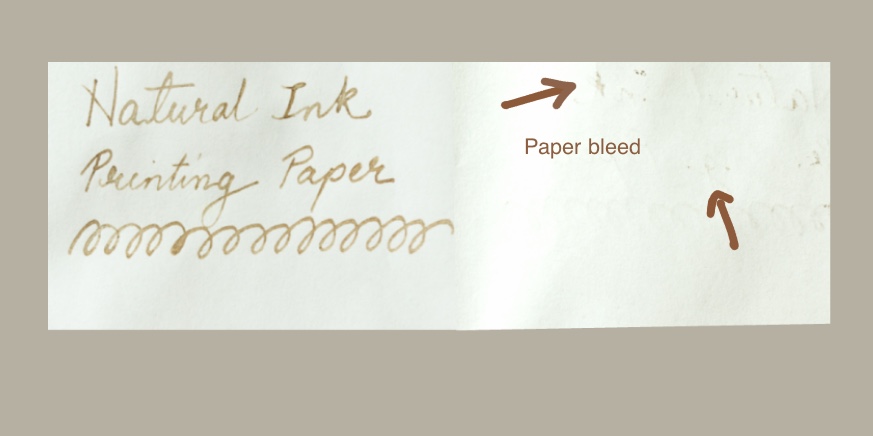 Sketchbooks
My preferred brands of sketchbooks for ink and watercolor sketches when travelling are Fabriano Venezia and Hahnemühle. These two sketchbooks have cellulose-based paper appropriate for ink drawings. I also use some generic sketchbook lines available in the local art supply store, which are suitable for ink and watercolor drawing. I also sometimes bind my  own sketchbooks using hot press Arches or Canson mix-media watercolor papers.
A page from my Fabriano Venezia sketchbook is shown below. The downside to this sketchbook is that its thread binding prevents it from opening the book flat, but the ivory-colored pages make my watercolor sketches and doodles pop. On this page, I have doodled using handmade iron-gall natural ink.
Artists watercolor papers
Watercolor paper is available in a variety of textures. Hot Press watercolor papers are smooth and the least absorbent because it has been compressed to a harder surface. The most common finish (cold pressed) has a medium textured surface. The most absorbent and textured paper is 'rough' paper.
My preferred choice of paper with natural inks is relatively smooth watercolor paper also known as the hot press watercolor paper. It allows the nib to glide on the surface of paper rather than getting caught in the fibres of highly textured paper.
I have used two types of watercolor paper in the image below. One is 100% rough cotton paper from Fabriano, and the second is 25% medium watercolor paper. The ink shines on both papers, but the ease of use of the writing instrument makes the difference. Rough watercolor papers are a bit fibrous, making it challenging to write with a nib pen as they get caught in the fibres.
In my experience, hot watercolor paper works with virtually any ink because it has relatively low absorbency.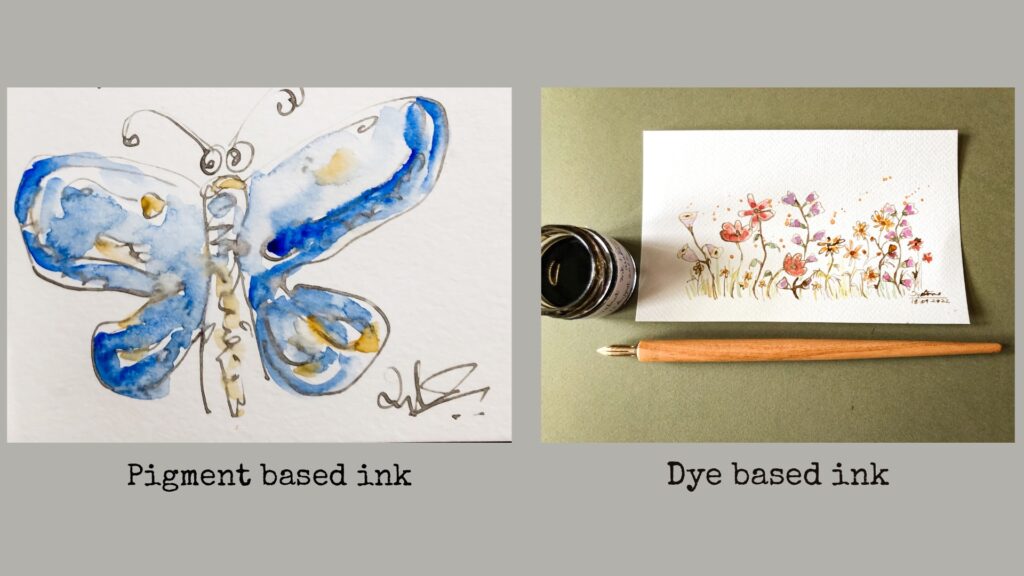 In the image below, I used Fabriano 200gsm fine-grain cold-pressed 100% cotton paper for doodling with natural inks and watercolors. I prefer this paper for its ease of use while writing with inks and a dip pen. The paper is bit absorbent too so the ink doesn't smudge.
The elegance of writing using natural inks and dip pens elevates the creative experience.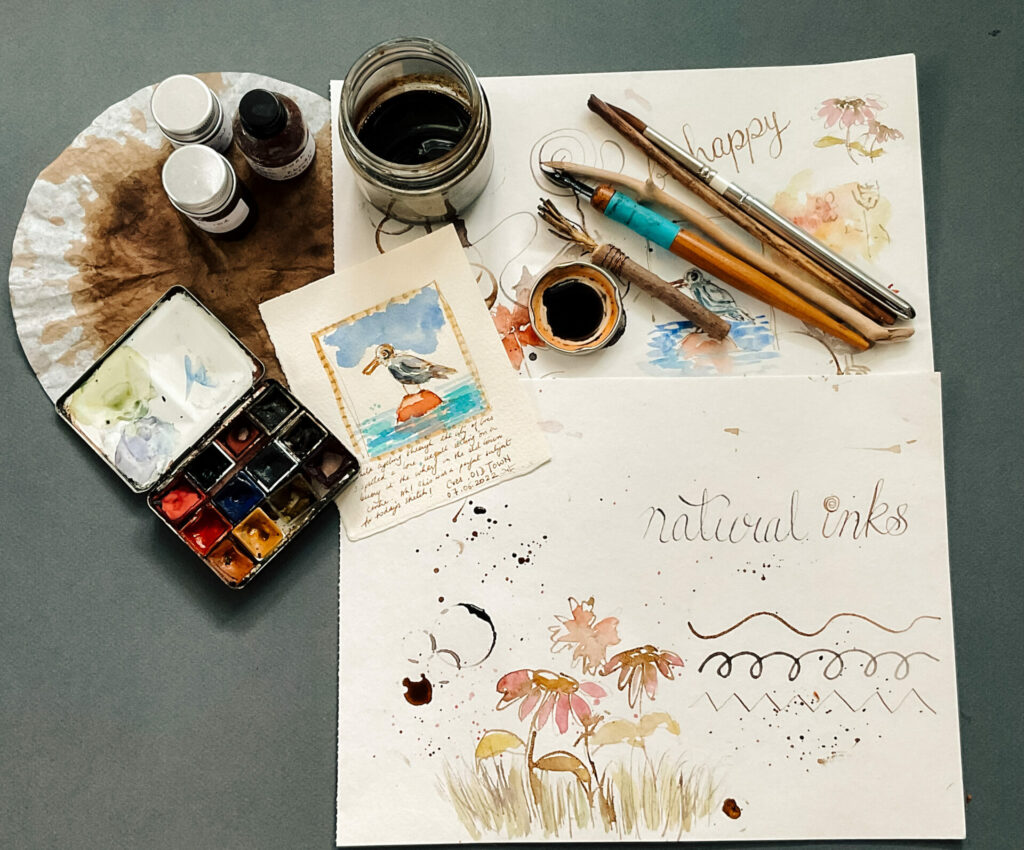 Final thoughts: Which paper should you be using with Natural Inks ?!
Well, It depends. To begin with,  it is important to use acid-free paper because acid in the paper can cause the natural ink to fade or discolor over time.
Natural inks can be used on practically any coated or watercolor paper (both hot and cold pressed) . It's worth noting that natural inks can be unpredictable, and it's a good idea to test the ink on a small piece of paper before using it on a larger scale. It may be necessary to explore in order to find a harmonious combination of paper and ink rather than just paper or ink.
References: