Watercolour sketching captured my heart only in the last couple of years. Before that, I didn't know anything about sketching or how to use watercolours for that matter.  It's magic to me that with just a few squiggly lines and some paint, I can record a slice of our life! I wonder why I never did this earlier in my life ..?
During summer holidays this year, we decided to travel within our home country, Austria. We spent most of our time in Upper Austria and a bit in lower Austria too. This was the most relaxing holiday we ever had in years!  Unlike most of our camping holidays in Croatia, where getting a good spot for your camping van is like winning a lottery and secondly, you can't relax because the coast of Istria is visited by a throng of holidaymakers.
During our holidays, I not only spent quality time with my family,  but I also had ample time to sketch in the most peaceful and relaxed atmosphere. This blog is a collection of sketches from our Summer holidays this year.  What makes these sketches even more dear to me are that I recorded the glories of our holiday memories using my very own sustainable and eco-friendly handmade watercolours. These sketches give me a very unique and personal record of my experiences!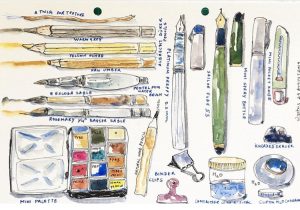 This is my current travel sketch kit. I work with a very limited colour palette that also allows me to understand the pigments and their characteristics. It is challenging and more fun!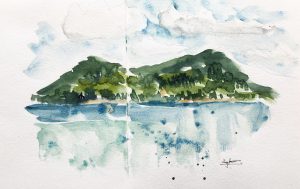 The mesmerising view of lake Atter (or Attersee in German) from our cottage. It was an unforgettable time spent in a very old and cosy wooden cottage by the lakeside.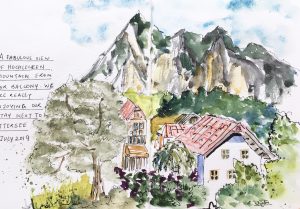 The view of Höllengebirge (mountains of hell) from our balcony.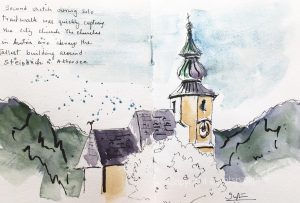 The town of Steinbach am Attersee.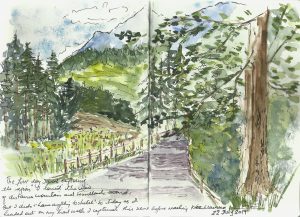 I went for a solo hike on the trail of Kienklausse-Taferlklausse.  I made a quick sketch to capture this beautiful trail.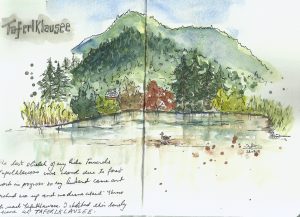 I didn't finish my solo hike to  Taferlklausse because midway through I came across a sign that read 'wegen wald arbeit gesperrt' i.e  the path is inaccessible due to tree lopping and trespassers will be prosecuted. Yikes! I tried reaching my husband but there was no signal on the hilltop. So, I went back to the base and called my husband to pick me up. We drove to the destination and had a picnic. This is a sketch from our picnic spot.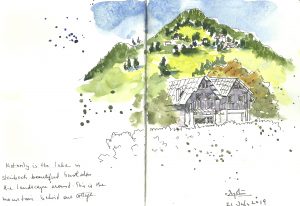 The landscape of the village of Steinbach is quite stunning but one easily forgets because of the captivating turquoise blue water of Attersee.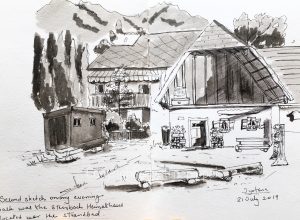 Sketch of a an old cottage near the public beach in the evening light of a warm summer day.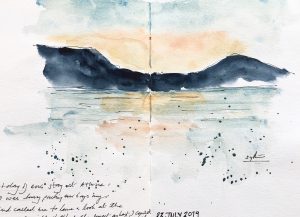 Sunset captured on our last day in Steinbach am Attersee! I would have missed it had my husband not stopped me from packing our bags and taking a moment to look out of the window and enjoy the sunset as a family!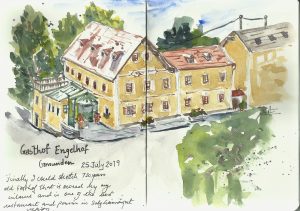 After leaving Steinbach am Attersee we spent a few days at my in-laws in Gmunden. The sketching subject was Gasthof Engelhof just across the road. Owned and run by my in-laws and voted to be one of the best in the Salzkammergut region.  I have always shied away from drawing buildings but this time I gave it a go !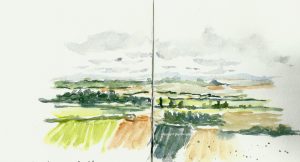 The next day me and my husband went on a hike to Grünberg . On reaching halfway through, I spontaneously sketched the distant landscape. I appreciate my husband's patience since we still had a fair bit to walk to reach the top.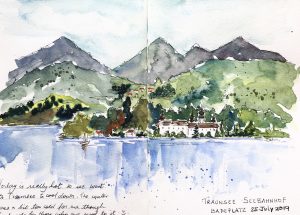 During our stay in Gmunden, we were hit by the summer heatwave. Hence, we decided to laze around the lake Traun or Traunsee ( in German). It is the deepest lake in Austria. I quickly sketched the Schloß Ort ( a very well known medieval castle) and the surrounding landscape.  After sketching I went for a swim to cool myself down in the cold lake . It was quite refreshing !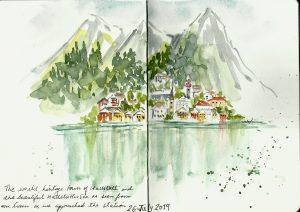 Our two-week-long stay in Upper Austria came to an end and we took a train back home to Graz. We love travelling by train because my son and I get plenty of time to sketch in a 4 1/2hr long journey. One of the station that falls on this scenic rail route is the world heritage town of Hallstatt. I had very little time but enough to capture it with a pencil. I put in the colours later from memory.
I am glad that I traded my camera for a humble sketchbook. Doing a sketch of a scene imprints it on my mind so much more than taking a picture. It's not always easy to find the time to do a drawing when we're on vacation (or any other time, for that matter!), but I'm always so glad I did.
Next up: Sketches from Lower Austria..coming soon